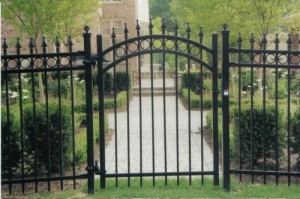 As a homeowner or business owner in Northern Virginia, you are constantly looking for ways to set make your home or business stand out. A new roof is not a big enough change. Most passersby will probably not even notice the difference. New siding is nice, but it is still not enough. You need a project that will really add to your curb appeal. You need a new fence! But not just any fence. You need an Aluminum Fence.
Benefits of Aluminum Fences in Northern Virginia
Aluminum fences are aesthetically appealing, providing a curb appeal unmatched by other fencing.
Aluminum fences are actually very cost effective. These aesthetically pleasing fences are much more affordable than you would think.
Aluminum fences are also extremely durable. Aluminum withstands the elements better than welded steel or wood. It is estimated that aluminum will take more than 10,000 years to disintegrate.
Unlike other types of fences, aluminum is very low maintenance. Aluminum fences do not need to be painted annually and very rarely need to be cleaned.
Aluminum fencing will instantly improve the security of your property. Aluminum fencing with spear-topped pickets is incredibly difficult to breach.
Aluminum Fences in Northern Virginia
Hercules Fence is not only Virginia's largest fence company, we are also one of the top dealers in the country for aluminum fences. This allows us to offer you premium quality aluminum fencing without the premium price tag. We also offer extended warranties on all of our products. So why would you choose any other fence company in Northern Virginia? Our aluminum fences looks great with any style home or business.
If you have any questions about Hercules Fence, your source for Aluminum Fences in Northern Virginia, you can reach us at (757) 316-3600 or visit FencesNewportNews.com today! Hercules Fence has been providing professional fence services and installation throughout Northern Virginia since 1955.
You can also follow Hercules Fence on Facebook, Twitter, Google+ and YouTube while you are at it!