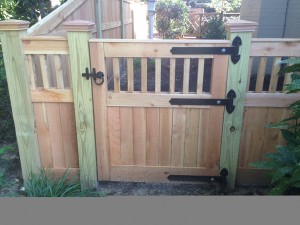 When it comes to your home, you want to make sure everything is perfect, or close to it. Because of this, you pay particularly close attention to the exterior of your home. After all, you only get one chance to make a good first impression. Curb appeal is everything. So you hire a professional landscaper to come out and tend to your gardens. You hire a roofer to come out and install a new roof. You power wash your vinyl siding to make sure it shines. And you invest in a brand new vinyl fence.
Nothing beat the look of a clean, white vinyl fence. It gives an instant boosts your home's curb appeal. Your new fence helps with security. It even increases your home value. As you can see, there are plenty of benefits to installing a new vinyl fence around your property. But before you jump at the chance to buy a new fence, you have questions. This is why we have decided to start a blog mini-series titled "Fence Installation FAQs."
The first installment of "Fence Installation FAQs" is centered around the question "Should I install a Fence Gate on a Slope?" And the simple answer is NO! While you can install a fence gate on a slope, you probably shouldn't. Installing a gate on a slop not only presents a problem for the company installing your gate, but it also poses opening a closing problems, and, depending on the degree of the slope, could make the gate fairly burdensome to use.
So, if you can, avoid installing a gate on any slope.
Fence Installation in Northern Virginia
No matter the fencing project you have in mind, Hercules Fence of Newport News, Virginia, is here for you. We pride ourselves in our wide variety of fences: wood, vinyl, chain link, aluminum, and steel. With over 50 years in the fence business, we are well aware that our reputation must be earned anew every day.
If you have any questions about our blog, "Should I install a Fence Gate on a Slope?" or if you have any other fence related questions, please contact Hercules Fence by calling (757) 316-3600 or visit FencesNewportNews.com today! You can also follow Hercules Fence on Facebook, Twitter, Google+ and YouTube while you are at it.