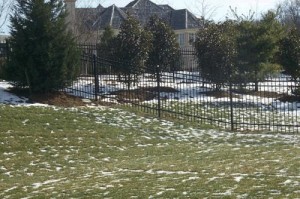 Newport News, Virginia is anything but a small town. With a population of 180,719, as of the 2010 census, Newport News is the fifth-most populous city in the state. And the city is constantly growing. Located on the banks of the Hampton Roads harbor, Newport News is just minutes away from Williamsburg and a short drive from Virginia Beach. What could be better?
Unfortunately, making your home stand out amongst the crowd is not always easy in such a populous city. So it is up to you to find ways to improve the curb appeal of your home. One way to do this is to install a new fence. But not just any fence, an ornamental steel fence.
How a New Fence can transform your Newport News Home
First and foremost, a steel fence will give your home an instant boost in curb appeal. In fact, these fences are some of the most breathtaking on the market, adding visual appeal and sophistication to any home.
Steel fences are incredibly durable and built to stand the test of time.
Steel requires very little maintenance.
Steel fences add value to your home, while also lowering your insurance premium.
A new steel fence will add to the overall security of your home.
Ornamental steel comes in an abundance of styles.
And More!
Ornamental Steel Fences in Newport News
Since 1955, Hercules Fence of Newport News has been providing professional ornamental steel fence installation and services throughout the state. Our steel products are coated with an electrostatically applied powder coating to create a durable and long lasting finish that will outperform a painted product.
Hercules can also provide custom welded panels if you have a unique design in mind.
If you don't think an ornamental steel fence is right for you, please take a moment to browse our many other residential fencing options. Let Hercules Fence help you find the new fence that best fits your wants, needs, and, most importantly, budget. As the largest fence company based in Northern Virginia, we are able to offer you a premium quality fence without the premium price tag.
If you have any questions about finding the New Fence Company, you can contact Hercules Fence of Newport News, Virginia today by calling (757) 316-3600 or visit FencesNewportNews.com today! You can also follow Hercules Fence on Facebook, Twitter, Google+ and YouTube.