Whenever you make a serious renovation to your home, your first and biggest concern is how it will serve as an investment and increase the value of your house. Quality fencing has the ability to change the aesthetic of a home or even the personality of an entire neighborhood. A lot of thought and consideration goes into purchasing a new fence and understanding what kind of investment it can provide. Learn more about it in our blog!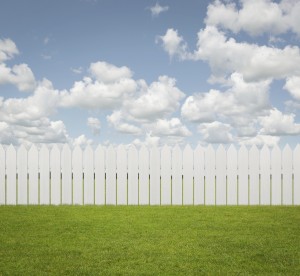 Considerations for New Fences
When in the market for a new fence as a real estate investment, there are several factors that need to be considered. The biggest consideration to keep in mind is if the surrounding houses have fences and what kind of fencing they have. In a community where every household has rustic looking dog ear wooden fences, a shiny new vinyl fence may look out of place and could turn off potential buyers. On the other hand, installing a new fence to match surrounding homes is often a particularly good investment.
Benefits of Fencing
A new fence holds many benefits as an investment in a home, and when considering the cost of a fence, also consider what kind of value it will add to your biggest piece of equity. On average, installing a new vinyl fence increases the value of your house by about 65% of the cost of installation. This drops to about 50% for wooden fences as they require more maintenance to upkeep and do not last as long. Another thing to consider, especially if your home is in a neighborhood with many fences, is that a new fence can help your house to sell more quickly. People will be hesitant to buy a house which they do not feel fits the surrounding area or that they must immediately improve. A new fence is a quality of life and privacy investment as well as a great investment in your home.
If you're in the market to make an investment in you home with a new fence, find out why Virginia is raving about Hercules fence.
Hercules Fence has experience in nearly every type of residential and commercial fencing material imaginable, from wood and aluminum to chain link, vinyl, steel, and even temporary fencing. We have developed a reputation for quality work and fair, competitive prices, and we are located in six convenient locations.  We have offices in Manassas, Richmond, Newport News, Norfolk, Virginia, Maryland, and North Carolina.
The experienced and professional team of Hercules Fence can help guide you through the process and design the perfect fence for your home. We look forward to hearing from you and meeting your residential fencing needs.
If you have any questions about finding your dream fence, you can contact Hercules Fence today by calling (757) 316-3600 or visit FencesNewportNews.com today for a free quote!