Are you looking into adding a new fence to your home or perhaps replacing an old, worn down fence? If so, you have a very difficult decision ahead of you. Do you go with a vinyl fence or a wood fence? Which fence is best? What are the Pros & Cons of Vinyl & Wood Residential Fences?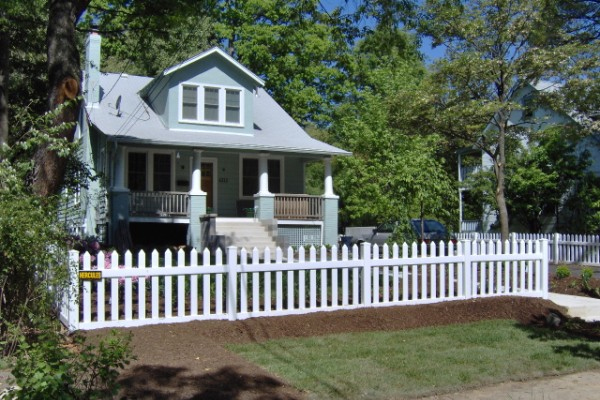 Vinyl Residential Fences have become very popular in recent years because of their clean appearance, long product life, and minimal maintenance requirements. Still, there is something about Wood Residential Fences that cannot be matched by vinyl.
Pros & Cons of Vinyl & Wood Residential Fences
Vinyl Fence Pros
Vinyl Fence Cons

Vinyl fences come in a wide variety of styles and colors, ensuring you find a fence to match your home.
These fences can mimic the look and feel of real wood without the maintenance.
Vinyl fences never need to be painted.
Cleaning is a breeze.
Unlike wood fences, vinyl will not split, crack, or rot. Best of all, termites and fungus will never be an issue.
Vinyl fences are even fire resistant.

As you can imagine with so many benefits, vinyl fences tend to be more expensive than wood fences.
Unlike wood fences, repairs are not easy when it comes to vinyl fences.
Some vinyl fences have mildew problems.

Wood Fence Pros
Wood Fence Cons

Nothing beats the look of a wood fence. It is timeless.
Wood fences are very affordable.
The ability to paint and stain your fence gives you more design flexibility down the road.
Wood fences are very easy to repair. The average homeowner can handle most repairs.
Best of all, wood fences are environmentally friendly.

Wood fences require regularly, yearly maintenance, including cleaning, repairs, painting, and staining.
Termites can wreak havoc on a wood fence.
Wood fence planks can warp, requiring replacing.
Fungus can be an issue with wood fences.
And, of course, rot can be a problem.
So which is better, vinyl or wood? Unfortunately, there is no right answer. You can't go wrong either way. The final decision will come down to your personal preferences, maintenance requirements, and, of course, your budget.
Hercules Fence: Your Source for High Quality Residential Fences in Newport News, Virginia

At Hercules Fence, we pride ourselves on offering the people of Newport News, Virginia and the surrounding area one of the most extensive selections of vinyl and wood residential fences. We will surely be able to accommodate your needs, whether they be privacy, semi-privacy, or decorative. Our experienced sales and installation staff can handle any of your fencing needs.
If you have any questions about the Pros & Cons of Vinyl & Wood Residential Fences, please contact Hercules Fence in Newport News, Virginia by calling (757) 316-3600 or visit FencesNewportNews.com today! Also, check us out on Facebook, Twitter, Google+ and YouTube!