You're likely aware that fences add numerous benefits to your home and family. Depending on the style and height of the fence, you could enjoy increased privacy, shielding your property and family from sight and helping to muffle sounds. Fences also delineate property lines, help keep unwanted people and animals out of your property, and help safely contain loved ones, not only children but also pets. If you're planning a fence installation or replacement project to benefit your furry family members, read on for the best fencing materials (including wood fence alternatives) to get the job done.
Pets That Dig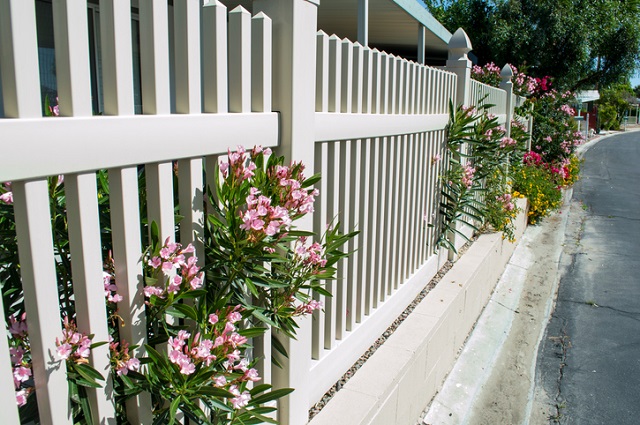 If you've got a pet who likes to dig and tunnel, you will need a fence that can be sunk into the soil. In most cases, wood will not be a good choice. Chainlink and vinyl could work in this scenario, but you should discuss the specifics of your case with a fencing professional.
Pets That Climb
If the pets you're trying to restrain are climbers, you must consider several factors. Most dogs can be stopped from climbing a fence by making it tall enough or opting for chainlink (except for some of the most industries and clever ones, like huskies). However, some cats have no trouble with chainlinks and can climb wood easily. In some cases, they may even climb and cause damage to vinyl fencing. Some fences can be fitted with a roll bar topper to keep cats from gaining purchase at the top and keep them from going over.
Pets That Jump
Sometimes, it's not so much that the pets climb but that they jump (you may find you have the same issue with deer jumping into your yard, especially if you have a tasty garden). The best way to combat this is with a very high fence. Most 6′ fences (wood, metal, or vinyl) will contain most jumping dogs. Some may still be able to clear it, especially if you have stuff in your yard (like a table or slide) that they can climb to start from higher up.
Pets That Come In Different Sizes
If you've got multiple pets, you have to consider the capabilities of all of them. For instance, if you have d dog like a big dane, you could get away with a decorative iron fence of 4-5′ because they're not known for jumping. But if you also have a tiny dog, that one could easily slip through the iron bars. Likewise, a wooden privacy fence might keep your small dog, but not your climbing cat.
Get in Touch With Hercules Fence Today
Hercules Fence has experience with nearly every type of residential and commercial fencing material imaginable, from wood and aluminum to chain link, vinyl, steel, and even temporary fencing. We have developed a reputation for quality work and fair, competitive prices. Hercules Fence is ready to serve you from six convenient locations. We have offices in Manassas, Richmond, Newport News, Norfolk, Virginia, Maryland, and North Carolina.
If you have any questions about finding your dream fence or maintenance, contact Hercules Fence today by calling (757) 316-3600 or visiting FencesNewportNews.com for a free quote!