Some of the most aesthetically pleasing fences are wood fences. They're also versatile, sturdy, and classic—a true representation of the American dream. However, wood is wood, and moisture is the enemy. Unfortunately, with winter comes an abundance of moisture in many forms; snow, sleet, rain, you name it.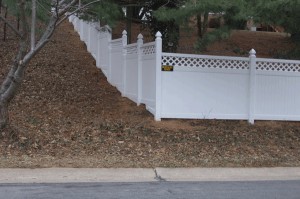 But, your magnificent wood fence doesn't have to be doomed this winter. In fact, with proper preparation and maintenance, your wood fence could emerge this spring in just as good of shape as before the snow! Practice the following wood fence maintenance tips, and you can help protect your fence until spring.
Step 1: Inspect
The first step is to fix any current damage to your fence. You should walk up and down the length of the fence, looking for any signs of rot or other damage. Any current issues should be addressed before the first snow. That way, the fence has a strong base for handling winter weather.
Step 2: Clean
Once you've determined your fence is free of damage, next you want to clean it. Power washing is the best way, however you can use a different method as long as all the dirt and debris are removed. Dirt laying on your fence and then being buried by snow and ice is bad for a wood fence. Leaving a dirty fence to sit in moisture all winter is a good way to start fence rot.
Step 3: Stain
After your fence is fixed and cleaned, staining it adds a layer of protection between the elements and your fence. Stains help block moisture from seeping into the wood. It's a good third step if you're looking to maintain a blemish-less fence through winter.
Step 4: Trim Shrubs/Branches
Although they don't cause rot or direct damage to your wood fence, branches and shrubs can still cause physical damage. With heavy snow lying on branches, it could cause those branches to break, falling on and damaging your fence. Keeping weak branches trimmed and shrubs groomed helps protect your fence year-round from external physical damage.
Wood Fence Installation in Northern Virginia
Since 1955, Hercules Fence has been providing residential  and commercial wood fence installation throughout Northern Virginia. Athe largest fence company in Virginia, Hercules Fence is able to offer you a premium quality wood fence without a steep cost. We also have offices in Manassas, Richmond, Newport News, Norfolk, Virginia, Maryland, and North Carolina.
All of our lumber meets and/or exceeds industry standards, as well as conforms to the latest EPA requirements. There's no doubt of quality with a Hercules wood fence.
If you have any questions about Wood Fence Installation, you can contact Hercules Fence of Newport News, Virginia today by calling (757) 316-3600 or visit FencesNewportNews.com today! We are the largest fence company based in Northern Virginia. You can also follow Hercules Fence on Facebook, Twitter, Google+ and YouTube.