Are you looking to have a chain-link fence installed at your Newport News property? Currently, one of the more popular types of fences surrounding properties today is a chain link fence consisting of a thick and heavy steel wire woven together to form a diamond-shape pattern. These types of fences are typically big sellers to homeowners and businesses because they clearly define boundaries and act as an additional safety measure and security feature for backyards, recreational fields, playgrounds and industrial buildings.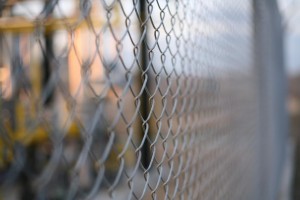 Chain link fencing elements
Chain link fencing involves four different elements—fabric, framework, fittings and gates. Each of these particular parts of the fence comes in various heights, weights, sizes and colors. There are two specific types of chain link fences. First, galvanized chain link fencing is carved from zinc and gives off a black or silver steel color which fits with a more industrial look. Also, with time and harsh weather, galvanized chain link fencing may become more prone to rust and corrosion. On the contrary, color-coated chain link fencing comes in various blacks, greens, browns and whites, presenting a more attractive appearance, easily blending into its surroundings and withstanding all kinds of weather elements.
Installing your chain link fence
Other than the types of chain link fencing options to consider, it is important that you realize installing a fence is much more than just showcasing and increasing your property's value and curb appeal. Chain link fences are ideal for keeping children and pets safely within the yard. Another advantage to this type of fence is that because it can come in a variety of great heights, they are difficult for unwelcomed guests to climb and, thus, serve as an additional security feature to your Newport News residence and/or business.
Economical and fast
Chain link fences are very affordable and, with the assistance of a professional fence installation company such as Hercules Fence in Newport News, VA, it may only take a week or less for the installation process. This is because the fence and corresponding materials are lightweight and easily pieced and placed together to create the chain link appearance. Additionally, because chain link fencing is made from steel and has a durable structure, chain link fencing requires little to no additional maintenance. However, it is recommended to clean your chain link fence at least once a year with a water hose, soft scrub brush and a bucket of soapy water.
Choose Hercules Fence to install your chain link fence.
With over 50 years in the fence business, Hercules Fence offers the quality and expertise that only an experienced business can provide. With six convenient locations in Manassas, Richmond, Newport News, Norfolk, Virginia, Maryland and North Carolina, Hercules Fence is ready to showcase why we've been in business for 50 years.
If you're ready for your new chain link fence for your dog, give us a call at (757) 316-3600, or contact us on our website.