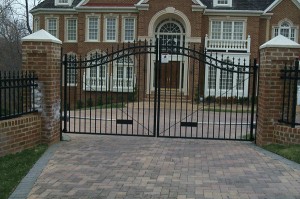 According to the FBI, Home Break-In (Burglary) is the most common threat to our home. And that threat increases with the temperature…
After being stuck indoors all winter (especially after this harsh winter), many people are eager for summer. Unfortunately this list of eager summer-lovers includes criminals. Did you know that the highest percentage of burglaries occur during the summer months? That's right. Of the 2,000,000 home burglaries reported each year in the United States, the highest percentage occurs during June, July, and August. Why? Summer vacation is a good guess. As we go away on vacation, who is left to watch our home and protect our valuables?
Improve Home Security
Purchase a security system, of course! Homes without security systems are up to 300% more likely to be broken into. Whoa! So if you plan on being away from your home this summer, a new security system might be a good investment.
Replacement windows do more than you'd think. New windows are not only more energy efficient, they are also more secure. Newer windows have improved locking mechanisms and catches that do not allow the window to open past a certain point. Of course, none of this matters if you do not lock your windows. About 30% of all burglaries are through an open or unlocked window or door. Yikes!
Shed a little light on the problem. Outdoor lighting, especially motion-sensing lights, can help deter criminal activity. No burglar wants to try and break into a home while illuminated by a spotlight.
Does a fence improve home security? Yes! A fence is a great deterrent to criminal activity. Criminals do not like to have to work hard to break into a home. So the harder you make it for them, the safer you make your home.
Want a New Fence? Call Hercules Fence!
Since 1955, Hercules Fence has been providing professional fence installation and services throughout Northern Virginia. If you have any questions about Improving Home Security with a New Fence, you can contact Hercules Fence of Newport News, Virginia today by calling (757) 316-3600 or visit FencesNewportNews.com today! You can also follow Hercules Fence on Facebook, Twitter, Google+ and YouTube.
Sources:
As Weather Warms Up, So Do Opportunities For Crime, SouthernUniversity.edu