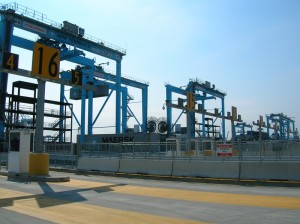 There are approximately 176,985 property crimes annually in Virginia, according to neighborhoodscout.com. Property crime includes, among other crimes, burglary, larceny, theft, motor vehicle theft, arson, shoplifting, and vandalism. Newport News alone is subject to 6,041 property crimes annually. That breaks down to 1,094 burglaries, 4,592 thefts, and 355 vehicle thefts. In fact, the Newport News property crime rate is 52% higher than the Virginia average. Yikes! The chance of being a victim of a property crime in Newport News is 1 in 31.
Is your Newport News facility well protected? Improving facility security must be a priority. And it all starts with access control: fencing. A strong commercial fence can help prevent theft, vandalism, and countless other crimes.
Commercial Fence Installation in Newport News
Hercules Fence has been a commercial fence provider since 1955. We pride ourselves in installing high quality fences at affordable prices. Plus, as the largest fence company in Northern Virginia, we have the luxury of purchasing the fence you want at a price you will love. When you call today, a trained commercial salesperson will listen to your wants and needs and explain what product is right for you and your business. We specialize in several types of commercials fences, including Chain Link, PVC Vinyl, Ornamental Aluminum, Steel, Crash Rated Barriers, Anti-terrorism Cable, And More.
Hercules Fence will work with you to customize and install a commercial fence specifically designed to fit your business needs.
Additional Benefits of Commercial Fencing
A high-quality commercial fence will also boost the aesthetic appeal of your facility.
Whether you need to protect the privacy of your clients or keep prying eyes away from your work, commercial fencing can do the trick.
And More!
If you have any questions about choosing the right Commercial Fence, you can contact Hercules Fence of Newport News, Virginia today by calling (757) 316-3600 or visit FencesNewportNews.com today! You can also follow Hercules Fence on Facebook, Twitter, Google+ and YouTube.
Sources:
Virginia Crime Rates and Statistics, Neighborhoodscout.com
Crime, Virginia Performs
Newport News Crime Information, Areavibes.com