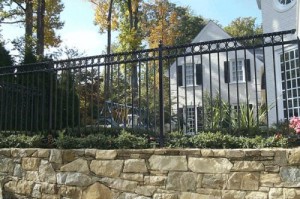 When the time comes to choose the material for your new fence, you have a lot of options. First, there is industry stalwart, wood. Then there is the industry workhorse, chain link, and the industry's security specialist, steel. And who could forget the industry's new golden boy, vinyl. But there is one fencing material that often gets overlooked, aluminum.
Aluminum Fence Installation in Yorktown, Virginia
Hercules Fence is proud to be one of the country's leading dealers of aluminum fencing. Our aluminum fences looks great with any style home and complements beautiful landscaping while not limiting a picturesque view.
Click Here to request a FREE quote!
Hercules Fence is Virginia's largest fence company. What does this mean for you? Premium quality fences without the premium price tag. That's a win-win if we have ever heard it. So why would you choose any other fence company? Since 1955, Hercules Fence has been providing professional fence installation services throughout Yorktown and the rest of Northern Virginia.
The Many Benefits of Aluminum Fences
Durability
Aluminum withstands the elements better than welded steel or wood. Its unique powder coating process ensures that your aluminum fence will look great for many years. In fact, Hercules Fence offers a limited lifetime warranty with all of our aluminum fences.
Did we also mention that these fences are low maintenance?
Curb Appeal
If you want a durable fence, but don't enjoy the look of vinyl, aluminum is an excellent choice. Aluminum is available in many different grades and styles with 5/8″, 3/4″ and 1″ pickets. Standard colors are black, white, bronze and hunter green.
Security
Aluminum fencing with spear-topped pickets is incredibly difficult to breach and will help improve security.
Affordability
Aluminum fences are actually very cost effective. These fences are much more affordable than you would think. Just contact Hercules Fence of Newport News to see if you can afford a new aluminum fence.
Plus, with an average return on investment around 65%, a new aluminum fence is a great investment for your home or business.
If you have any questions about Aluminum Fence Installation in Yorktown, Virginia, you can contact Hercules Fence today by calling (757) 316-3600 or visit FencesNewportNews.com today! We are the largest fence company based in Northern Virginia. You can also follow Hercules Fence on Facebook, Twitter, Google+ and YouTube.