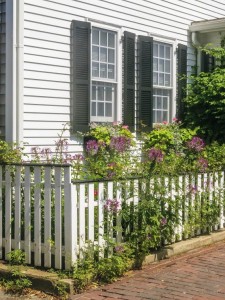 The median home value in Newport News, Virginia is $155,000. While this is nothing to scoff at, it is significantly lower than the median home value for the state: $231,100. So, as a Newport News homeowner, how do you increase your home value? The answer: home improvement projects, of course!
An Oldie but a Goodie, a Wood Fence Boosts Newport News Home Value
While there are many home improvement projects to choose from, projects with great returns on investment, you can't go wrong with a beautiful Wood Fence. Despite the soaring popularity of vinyl fencing in recent years, wood is still the No. 1 choice for residential fences in the United States. In fact, Americans put up some 59,000 miles of wood fence in 2007 alone. Wow! And it's no wonder, there are considerable benefits to wood fencing, including:
Increased Home Value: Wood fencing boasts an ROI of roughly 50%. While this is not as high as larger home improvement projects, such as kitchen and bathroom remodeling, it is one of the best ways to add value to your home while also improving curb appeal, which brings us to No. 2.
Curb Appeal: There is a reason the American dream involves a fence. They're dreamy. Okay, that joke was a little cornier than we anticipated. But in all seriousness, a wood fence will instantly improve the curb appeal of your home, which will also make it easier to sell (when the time comes).
Customizable: While some homeowners complain about the maintenance involved with wood fences, others embrace the possibilities. Tired of the color of your fence? Simply paint it. What could be easier? The same is not true for other materials, such as vinyl.
And So Much More: There are plenty of uses for a fence: privacy, curb appeal, safety, block wind and noise, protect your swimming pool, etc.
Wood Fence Installation in Newport News
Since 1955, Hercules Fence has been providing professional fence installation and services throughout Northern Virginia. As the largest fence company in the state, Hercules Fence is able to offer you a premium quality fence without the premium price tag. That's what we like to call a win-win!
While you are here, please take a moment to browse our many residential  and commercial fencing options.
If you have any questions about Wood Fence installation, you can contact Hercules Fence of Newport News, Virginia today by calling (757) 316-3600 or visit FencesNewportNews.com today! We are the largest fence company based in Northern Virginia. You can also follow Hercules Fence on Facebook, Twitter, Google+ and YouTube.