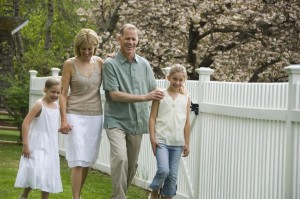 If you are in the market for a new fence, you don't want to read through blog after blog to find the right fencing company in Northern Virginia. So stop! As the largest fence company based in Virginia, Hercules Fence is able to offer you a premium quality fence without the premium price tag. Why would you trust anyone else?
Click Here to request a quote today!
Benefits of a New Fence
A Fence Adds Value to Your Home
While a new fence may not boast a return on investment as high as kitchen or bathroom remodeling, at a 50% ROI, according to Remodeling Magazine's Annual Cost vs. Value Report, the potential return on a new fence is nothing to scoff at, especially when you consider the many additional benefits of such a project.
A Fence Adds Security to Your Home
There are over 2,000,000 home burglaries reported each year in the United States. Is your home well-protected? A fence is a great start. Criminals do not like to have to work hard to break into a home, making a fence an excellent deterrent to criminal activity.
A Fence Adds Curb Appeal to Your Home
While not quite as tangible as some of the other benefits, curb appeal matters, especially when it comes time to sell your home. After all, you only get one chance to make a good first impression. So it is important to make it a good one! According to studies, 85% of homebuyers view a home online before ever visiting it in person, making curb appeal extremely important.
And So Much More!
Since 1955, Hercules Fence has been providing professional fence installation and services throughout Northern Virginia. While you are here, please take a moment to browse our many residential  and commercial fencing options. Let Hercules Fence of Newport News help you find the new fence that best fits your wants, needs, and, most importantly, budget.
If you have any questions about New Fence installation, you can contact Hercules Fence of Newport News, Virginia today by calling (757) 316-3600 or visit FencesNewportNews.com today! We are the largest fence company based in Northern Virginia. You can also follow Hercules Fence on Facebook, Twitter, Google+ and YouTube.