Are you feeling like you'd like to have that extra touch of safety that comes with an automated gate to get into your driveway? If so, Hercules Fence of Newport News has just the right thing for you. We can custom build an automated gate system for all of your safety needs, whether they are commercial or residential.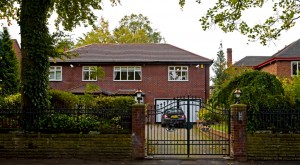 Before we begin on your automated gate, we start by analyzing all of the factors around the location of the gate to ensure that you are receiving the perfect product for you, both in safety as well as aesthetically. We will analyze the opening size, style of fence and gate, distance from the dwelling(s), road surface material, entry mechanism, exit mechanism and safety concerns before recommending the right gate and operator for the intended purpose.
You can use different types of mechanisms to open the gate, and the automatic openers will work on most types of gates that you install. Depending on your needs, Entry can be via transmitters, pushbutton, touchpad, touchpad with intercom, dedicated phone line connection or swipe card. In order to maintain your safety and notify you when there is someone attempting to gain access to your home that shouldn't be, you can opt to get notifications to your phone when someone accesses your driveway. It is important that you have a professional install your fence so it works properly and keeps intruders at bay. Give Hercules of Newport News a call when you're ready to install your Automated Gate System!
If you have any questions about Hercules Fence, your source for Automated Gate Systems in Northern Virginia, you can reach us at (757) 316-3600 or visit FencesNewportNews.com today! Hercules Fence has been providing professional fence services and installation throughout Northern Virginia since 1955.
You can also follow Hercules Fence on Facebook, Twitter, Google+ and YouTube while you are at it!Au