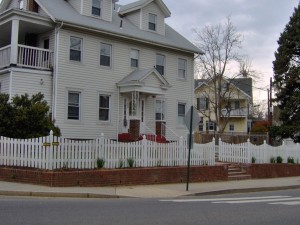 You've been thinking of installing a fence around your home but you can't decided if the drawbacks of having a fence are just too much for you. You're confused about what materials will work best for your home, your family, and your pets. Luckily for you, Hercules can give you personalized advice about all of these questions. There are many, many benefits to installing a fence around your home.
Privacy – Nobody likes the prying eyes of neighbors or passerby on their windows or in their yard. With a wooden privacy fence, you can eliminate the ability for people to see into your private space, giving you more peace of mind and comfort in your own home. Rest easy knowing that children and pets are safer inside a wooden security fence.
Curb Appeal – All fences are not created equal and all fences do not look the same. Depending on your need, you can make a fence match or complement your house in any way that suits you. Whether your need is for privacy, enclosure, or aesthetic, Hercules makes it easy to find a fence that will make your home look even nicer. A fence can even increase the resale value of your home. Many people love the white picket fence look and that can be achieved with different types of fences from Hercules Fence.
Set Your Boundaries – There can be no question of boundaries if there is a fence around your property. People will not be able to walk through your yard and your neighbors will now know if that's your tree or their tree to trim. Physical boundaries will also help you set sound boundaries. Fences can easily work as sound insulation for your home. You'll hear less of what you don't want to hear from your neighbors while retaining the privacy of your home and landscaping.
If you have any questions about Hercules Fence, or The Benefits of Residential Fencing in Northern Virginia, you can reach us at (757) 316-3600 or visit FencesNewportNews.com today! Hercules Fence has been providing professional fence services and installation throughout Northern Virginia since 1955.
You can also follow Hercules Fence on Facebook, Twitter, Google+ and YouTube while you are at it!