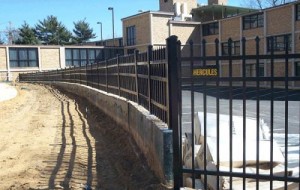 When it comes to proactively protecting your commercial facility, commercial fencing is a no-brainer. Unfortunately, in an attempt to save a few dollars here and there, many building owners contract less-than-reputable companies to install their new perimeter fences. And while you may save a few dollars initially, you will pay for this decision in the long run.
Common Mistakes in Commercial Fence Installation
Failing to File for Permits: Any construction project, no matter how minor, requires proper permits. Failing to file for such permits could result in hefty fines and worse: tearing down and rebuilding your new commercial fence. Ca-ching!
Failing to Measure Properly: As the old saying goes, measure twice, cut once. If measurements are inaccurate, even by a small margin, your entire fencing project could be in jeopardy. Materials may not line up properly, causing your fence to be unstable.
Failing to Check Property Lines: If you are not 100% positive of your property lines, it pays to check. Otherwise, you could be faced with a dispute, lawsuits, and the re-building of your fence.
Failing to Hire Hercules Fence: Since 1955, Hercules Fence has been providing commercial fence installation throughout Northern Virginia. Over the years, we developed a reputation for quality work and fare, competitive prices. As the largest fence company in Virginia, Hercules Fence is able to offer you a premium quality wood fence without the premium price tag. Talk about a win-win!
Click Here to request a FREE quote!
We take great pride in providing high-security fences to meet a variety of needs. Click Here to learn more. Hercules Fence has completed many high-profile projects with U.S. Army Base, Ft. Lee; Homeland Security; Quantico Marine Base; Treasury Department; Department of Labor; United States Coastguard; DEA; Langley Air Force Base; NASA; Federal Reserve; Pentagon; FBI; CIA; and more.
If you have any questions about Commercial Fence Installation, you can contact Hercules Fence of Newport News, Virginia today by calling (757) 316-3600! We are the largest fence company based in Northern Virginia. You can also follow Hercules Fence on Facebook, Twitter, Google+ and YouTube.