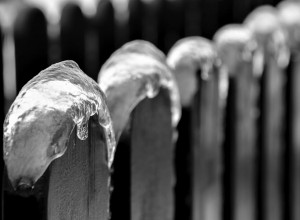 Winter can be a dark and depressing time. It's cold and frigid. It's dark when you leave for work and dark when you get home from work. But from all of the darkness springs…well, spring. In just a few short months, the flowers will be in bloom, the sun will be shining, and everything will be a little brighter and a lot greener. But what about your fence?
Without proper maintenance, your fence may not survive the winter intact. Fortunately, there are several quick and easy tasks you can perform to ensure your fence looks as good come spring as it did before winter.
Wood Fence Maintenance Tips to Ensure a Happy Spring
Painting and Staining: The same point we referenced as one of woods greatest assets is also one of its biggest maintenance tasks. While it is easy to change the color of your fence on a whim, it is also important to maintain the current color of your fence. This will require annual painting or staining. This is an important step to help shield your fence from the effects of rain and snow.
Timely Repairs: As they say, "a stitch in time saves nine?" The same goes for your wood fence. Addressing small issues now can help ensure they don't become big mistakes down the road. This can help greatly extend the life of your fence.
Clear Vegetation: The excess moisture caused by vegetation and debris could cause rotting, mold, and mildew.Moisture and your wood fence do not mix. Taking the time to clear such debris could help extend the life of your fence.
Cleaning: Power washing your fence annually could help greatly extend its life.
Inspection: Regularly inspect your wood fence for signs of damage or rot. This is especially important after a big winter storm.
Wood Fence Installation
Hercules Fence has been providing professional service and quality installation for both commercial and residential fences since 1955. Over the years, we developed a reputation for quality work and fare, competitive prices. As the largest fence company in Virginia, Hercules Fence is able to offer you a premium quality wood fence without the premium price tag. Talk about a win-win!
Click Here to request a FREE quote!
If you have any questions about Wood Fence Installation, you can contact Hercules Fence of Newport News, Virginia today by calling (757) 316-3600! We are the largest fence company based in Northern Virginia. You can also follow Hercules Fence on Facebook, Twitter, Google+ and YouTube.