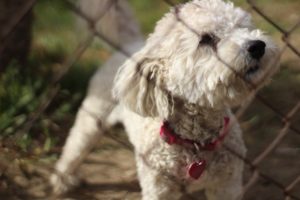 Ensuring your furry friend can run around in your yard safely and freely is vital for you and your pet. Choosing the right fence is crucial to keep your dog from running away or getting into harm's way while they exercise and play. With so many types of fencing available, we will guide you through three of the best options for your dog.
Wooden Fences 
Wood fencing is one of the classic choices for dog owners due to its high and solid structure, which can be built without any gaps to ensure the safety of your furry friend. Apart from providing safe boundaries, wood fencing offers privacy, creating a peaceful and distraction-free environment for you and your dog. This is especially beneficial for dogs that tend to react to barriers, as they won't be able to see people or other dogs passing by. Overall, a wood fence is an excellent option for any dog owner who values safety, privacy, and peace of mind.
Chain-Link Fences
While not the most aesthetically pleasing, chain link fencing is a practical option for many pet owners due to its affordability and easy maintenance. However, if you have a dog that barks frequently, there may be better choices for you. Additionally, some chain-link fences may not be a suitable option if you have a dog that can jump or climb, as they are often shorter and have plenty of footholds for adventurous dogs.
Vinyl Fences
Vinyl fencing could be the ideal solution for those looking for a low-maintenance option that provides a safe and happy environment for their family and furry friends. Vinyl fences are highly durable and require less maintenance than wooden fences. They are also more affordable and more accessible to repair. Depending on your homeowner's association and local regulations, choosing a vinyl fence will offer you better value than other fencing materials.
Find Your Perfect Fence With Help from Hercules Fence Newport News
Hercules Fence has experience with nearly every type of residential and commercial fencing material imaginable, from wood and aluminum to chain link, vinyl, steel, and even temporary fencing. We have developed a reputation for quality work and fair, competitive prices. Hercules Fence is ready to serve you from six convenient locations. We have offices in Manassas, Richmond, Newport News, Norfolk, Virginia, Maryland, and North Carolina.
If you have any questions about finding your dream fence or maintenance, contact Hercules Fence today by calling (757) 316-3600 or visiting FencesNewportNews.com for a free quote!