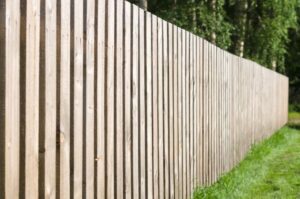 A well-made and well-maintained wooden fence can last up to 20 years and sometimes even longer if made from cedar. However, not all types of lumber are equal in quality. If the lumber used in the fence is untreated, it can deteriorate over time, and replacement may be necessary after around ten years. In this blog, we'll provide some tips on telling when it's time to replace your wooden fence. 
Your Fence Is Rotting
If you observe that multiple boards are rotting, it is necessary to replace them. Pay close attention to the areas closest to the ground, as they experience the most moisture and accelerate the rotting process. To prevent this, it is recommended to perform regular maintenance and apply a preservative. Nevertheless, it is common for wood fences to experience rotting, especially if they have been in place for many years.
Your Wooden Fence Is Leaning
If the weather is terrible or the ground is unstable, your fence may lean to one side. This is because the fence's structure is becoming less durable over time. If the leaning is minor, you can repair it by replacing and adjusting a few posts. However, if the whole fence is affected, it's time to replace it altogether.
Are There Split or Missing Boards?
If you notice a single board missing or split, it is replaceable. However, if there are several, it may be best to start fresh. Even the most durable wood can succumb to damage from prolonged exposure to the sun and rain over time. Additionally, the repeated freezing and thawing during winter and spring can cause damage to even the sturdiest boards. Split boards cause structural problems and detract from the overall aesthetic appeal.
Find Your Perfect Fence With Help from Hercules Fence Newport News
Hercules Fence has experience with nearly every type of residential and commercial fencing material imaginable, from wood and aluminum to chain link, vinyl, steel, and even temporary fencing. We have developed a reputation for quality work and fair, competitive prices. Hercules Fence is ready to serve you from six convenient locations. We have offices in Manassas, Richmond, Newport News, Norfolk, Virginia, Maryland, and North Carolina.
If you have any questions about finding your dream fence or maintenance, contact Hercules Fence today by calling (757) 316-3600 or visiting FencesNewportNews.com for a free quote!