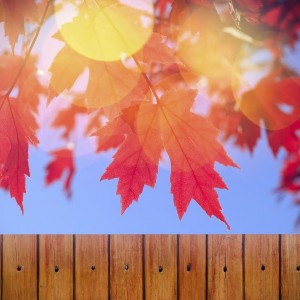 Fall is in full swing, which means winter is right around the corner. Around the corner, but not here! There is still plenty of time to enjoy the great outdoors before Jack Frost is nipping at your nose. For homeowners in Newport News, Virginia, this means squeezing in at least one more home improvement project before winter, but which project? A new roof is a little out of your price range. A pool just doesn't make sense right now. Well, what about a New Fence?
Fall is the Perfect Season for a New Fence in Newport News
According to the experts, September-March (ideally fall) is best time to have your new fence installed, when demand is low and fencing companies have more time to dedicate to you and your project.
Fencing companies, like Hercules Fence, tend to be busiest in spring and summer, making it harder for you to book your new fence project.  And while fencing demand is typically low in winter, the season brings with it extra hazards, namely a frozen ground and the occasional snow storm, which don't make fencing impossible, just more difficult. So what does all of this mean? Fall is the perfect season to build that new fence!
Schedules fill up very quickly in spring and summer. Fall and winter tend to see less demand for fencing and thus fencing companies have more openings to accommodate your busy schedule.
Fencing companies sometimes offer deals during the offseason.
Your new fence will be ready when spring rolls around and you and your family want to enjoy the great outdoors.
And More!
Trust Hercules Fence with Your New Fence
When it comes to finding the right fencing company in Newport News, Hercules Fence is the obvious choice. Not only have we been in business since 1955, but we are the largest fence company in Virginia. This allows us to offer you a premium quality fence without the premium price tag. That's what we like to call a win-win!
Click Here to request a quote today!
Please take a moment to browse our many residential fencing options. We also do commercial fencing as well.
If you have any questions about New Fence Installation, you can contact Hercules Fence of Newport News, Virginia today by calling (757) 316-3600 or visit FencesNewportNews.com today! We are the largest fence company based in Northern Virginia. You can also follow Hercules Fence on Facebook, Twitter, Google+ and YouTube.