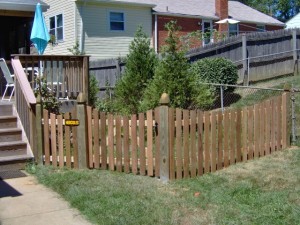 With a return on investment of close to 50%, a new fence is a great investment for your Northern Virginia home. But that is just the tip of the iceberg. A new fence offers homeowners so much more than just increased home value. So what are the other benefits of Fence Installation?
When it comes to Curb Appeal, a new fence – large or small – can make a big statement. The right fence will accent your home and improve its visual appeal. Your neighbors will be jealous.
A fence is a great Deterrent for Crime. Pick a fence that will not be easy to climb with an entry point that has a lockable gate.
Do you have children? What about a dog? A fence is a great way to create a Safe Environment for your little ones to play. You won't have to worry about your son, daughter, or family dog wandering away when you aren't looking. Fences also help keep unwanted guests, like certain types of wildlife, away.
As Robert Frost once said, "Good fences make good neighbors." Your fence helps Establish Boundaries, which is the backbone of any successful neighbor-to-neighbor relationship.
Then there are the fences with specific purposes, whether it's a pool fence or a privacy fence. We are assuming we don't have to elaborate on the benefits of those two.
Now all you have to do is choose the fence that best fits your needs (and budget) and choose a fencing company.
Fence Installation in Northern Virginia
Since 1955, Hercules Fence has been providing professional fence installation and services throughout Northern Virginia. As the largest fence company based in the state, Hercules Fence is able to offer you a premium quality fence without the premium price tag.
Please take a moment to browse our many other residential fencing options.
If you have any questions about Fence Installation in Northern Virginia, you can contact Hercules Fence of Newport News, Virginia today by calling (757) 316-3600 or visit FencesNewportNews.com today! You can also follow Hercules Fence on Facebook, Twitter, Google+ and YouTube.