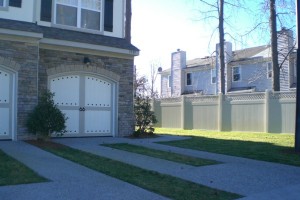 Homeownership is tough business. Your work is never done. If it's not the roof leaking, it's a busted pipe. If it's not your yard that needs mowing, it's a room that needs painting. If it's not one project, it's another. There is always something to do, especially if you want to continue to increase the value of your Northern Virginia home. Because of this, it is always better to undertake projects that will not only add functionality to a home, but also value.
While a New Fence may not boast the same return on investment (ROI) as a newly remodeled kitchen or bathroom, at roughly 50%, the potential return on a new fence is nothing to scoff at. Plus, because it's still summer, it is always better to take on outdoor projects now. There is plenty of time to remodel your home's interior during the fall and winter months.
Benefits of a New Fence
A fence will improve your Home's Curb Appeal. You only get one chance to make a good first impression. So it is important to make it a good one!
A Fence can improve Safety. If you have young children or even a dog, a fence is a great way to keep them protected and provides them with a safe place to play.
A Fence can improve Home Security. Criminals do not like to have to work hard to break into a home. A fence is a great deterrent to criminal activity.
A Fence can improve Relationships. "Good fences make good neighbors." Fences can help eliminate arguments over property lines (if installed correctly).
A Fence can improve Privacy. The right fence can give you and your family the extra privacy you deserve.
And More!
Need a New Fence? Call Northern Virginia's Largest Fencing Company
As the largest fence company based in Northern Virginia, Hercules Fence is able to offer you a premium quality fence without the premium price tag. Please take a moment to browse our many other residential fencing options.
Since 1955, Hercules Fence has been providing professional fence installation and services throughout Northern Virginia. Let us help you too!
If you have any questions about choosing the right New Fence, you can contact Hercules Fence of Newport News, Virginia today by calling (757) 316-3600 or visit FencesNewportNews.com today! You can also follow Hercules Fence on Facebook, Twitter, Google+ and YouTube.