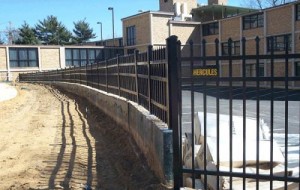 Businesses want to make money. It's a simple concept. Companies work to keep the customer happy and to turn a profit. There are many, many different ways to accomplish this and every company does it a little bit differently. You may not think that something as simple as a fence could play a significant role in a company's performance or bottom line, but you'd be surprised. A customer or client wants to know a few different things when they begin working with a company.
The client and customer base are important to the company.

The company cares enough to take good care of its space and employees.

Whatever the company is offering is worth the cost.
Two out of these three things can be aided with the use of a commercial fence. Wondering how we deduced that? Read on!
What A Commercial Fence Says About You
I care about how my business looks – Fences provide a good aesthetic, especially if you're using decorative aluminum, wood, or vinyl. When properly installed, all three can add to the overall look and feel of your business. Your mom may have told you never to judge a book by its cover, but all too often we are still swayed by aesthetics and how something looks at first glance – make that good first impression.

My employees are important to me – Depending on what kind of company you run, it may be important to have a security fence or an access control system. Both will show anyone coming to the premises that you care about your employee's safety as well as the safety of any information or products that you're keeping on your premises. People look for companies that clearly value their employees as well as their space.

I want my clients and customers to feel comfortable – Whether it's a security fence or a fence purely for aesthetics, chances are you put the fence in to benefit those inside and outside of your office. Combine it with some nice landscaping, and your efforts won't go unnoticed. Having a space that is both aesthetically pleasing and secure will help to give your clients peace of mind that you truly care about your place of business and those who frequent it.
Commercial Fencing in Newport News
Interested in New Commercial Fencing? Please contact Hercules Fence of Newport News, Virginia by calling 757-316-3600 or visiting our website. Hercules Fence has completed many high-profile projects with U.S. Army Base, Ft. Lee; Homeland Security; Quantico Marine Base; Treasury Department; Department of Labor; United States Coastguard; DEA; Langley Air Force Base; NASA; Federal Reserve; Pentagon; FBI; CIA; and more.
You can also follow Hercules Fence on Facebook, Twitter, Google+ and YouTube!