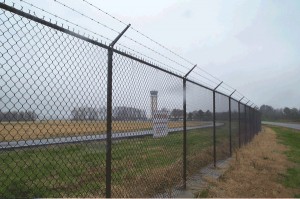 There are several ways to improve the security of your commercial facility, but perhaps there is no more cost effective way to do so than with a High Security Fence.  Fencing is a proactive way to deter criminal activity while also protecting privacy, improving curb appeal, and so much more. That's what we like to call a win-win!
High Security Fence Specialists in Yorktown
Since 1955, Hercules Fence has been providing residential  and commercial fence installation throughout Yorktown and much of Northern Virginia. We take great pride in providing high-security fences to meet a variety of needs. Click Here to learn more. Hercules Fence has completed many high-profile projects with U.S. Army Base, Ft. Lee; Homeland Security; Quantico Marine Base; Treasury Department; Department of Labor; United States Coastguard; DEA; Langley Air Force Base; NASA; Federal Reserve; Pentagon; FBI; CIA; and more.
Click Here to request a quote! As the state's largest fencing company, we are able to offer premium quality fencing products without the premium price tag.
Hercules Fence High Security Fence Options
Chain Link Fences: Hercules Fence is experienced in the most secure chain link fence systems available.
Ornamental Fences: Our high security ornamental fencing offers the ultimate in force protection.
Crash Rated Barriers: Hercules Fence has recently developed the expertise to install the following crash tested products: slide gates, pop-up barriers, lift-arm gates, and all types of bollard systems.
Anti-Terrorism Cable: At Hercules Fence, we have trained installation crews to install many different types of cable systems—depending on the specifications and job requirements.
Is Yorktown a High Risk Area?
Yorktown is by no means a high risk area, with just 191 property crimes in 2013. Property crimes include burglary, larceny, theft, motor vehicle theft, arson, shoplifting, and vandalism. But as the say, it is best to prepare for the worst and hope for the best. The time to prevent a property crime is before it happens, and a high security fence is a great place to start.
If you have any questions about High Security Fence Installation in Yorktown, you can contact Hercules Fence of Yorktown Virginia today by calling (757) 316-3600 or Click Here today! We are the largest fence company based in Northern Virginia. You can also follow Hercules Fence on Facebook, Twitter, Google+ and YouTube.