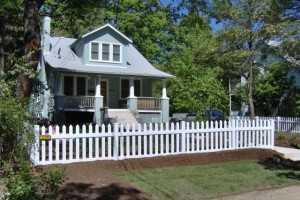 If you have ever read our blog before, you know that vinyl fences are hailed as a low maintenance option to wood fencing. However, you must remember that there is a difference between low maintenance and no maintenance. While a vinyl fence may not require painting or staining, it does require cleaning from time to time – that is if you want your fence to maintain its luster.
How to Clean a Vinyl Fence
Over time, your vinyl fence will begin to build up dirt and grime. So to keep your fence looking its best, it is important to clean it from time to time. Fortunately, cleaning a vinyl fence could not be any easier.
Start by washing away loose debris using a garden hose.
Using a household solution, like Simple Green, and a soft-bristle brush, scrub away tougher blemishes.
For more difficult stains, consider using a solution of bleach and water. First, test this solution on a small portion of your fence to ensure no discoloration.
For tougher spots, break out the power washer. But be careful to not damage your fence. You can also use a plastic tool to chip away at caked on dirt and grime.
To keep your vinyl fence in tip top shape, try to clean it at least once a year. When maintained properly, your vinyl fence will maintain its luster, adding to the visual appeal of your landscape.
Northern Virginia Vinyl Fence
Hercules Fence of Northern Virginia has been providing professional service and quality installation for both commercial and residential fences since 1955. Our residential fences are not only extremely durable, but also aesthetically appealing. Please take a moment to browse our many residential fencing options: Custom Wood Fences, Ornamental Steel Fences, Ornamental Aluminum Fences, PVC Vinyl Fences, Chain Link, and more.
In addition to offering you unparalleled experience, Hercules Fence also offers the buying power of the largest fence company based in Virginia.
If you have any questions about How to Clean a Vinyl Fence or if you have any other fence related questions, please contact Hercules Fence by calling (757) 316-3600 or visit FencesNewportNews.com today! You can also follow Hercules Fence on Facebook, Twitter, Google+ and YouTube while you are at it.