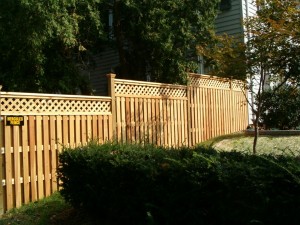 As you may recall from last week's blog, "What is the Best Fence for Dogs?" a privacy fence can be a great addition to your home, especially if you own a dog. But these fences do more than simply contain Fido to your backyard. They boast numerous other benefits, as well.
Benefits of Privacy Fences
For starters, privacy fence are great for…well, privacy. Duh! These fences help keep prying eyes away, which is particularly nice if you have a pool, like sunbathing, or just want to enjoy a little peace and quiet with your friends and family without everyone around knowing your business.
Did we mention that privacy fences look good! And because it takes a person just 30 seconds to form an opinion of your home, curb appeal matters. A new fence is a great way to boost the visual appeal of your home.
A privacy fence provides a safe outdoor environment for your family, children in particular.
These tall fences also help reduce noise pollution and wind. This is extremely nice if you like hosting barbeques and don't enjoy chasing napkins all across the lawn.
And More!
Privacy Fence Installation in Newport News, Virginia
Hercules Fence has been providing professional fence services and installation throughout Northern Virginia since 1955 and can handle all of your residential fencing needs. Our fences are not only extremely durable, but also aesthetically appealing. Hercules Fence also offers the buying power of the largest fence company based in Virginia, meaning we can get you the products you want at a price you'll love!
If you have any questions about The Benefits of a Privacy Fence, you can contact Hercules Fence of Newport News, Virginia today by calling (757) 316-3600 or visit FencesNewportNews.com today! You can also follow Hercules Fence on Facebook, Twitter, Google+ and YouTube.