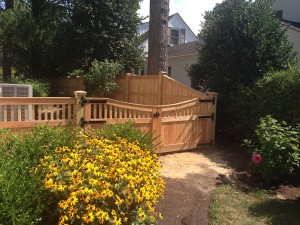 If we have said it once, we have said it a thousand times; a well-maintained fence can greatly improve the curb appeal and value of a home. But what happens when that fence is well past its prime? What happens when that fence is no longer aesthetically appealing?
The truth is that an old fence can greatly detract from your property in several ways. For starters, a broken down fence will take away from your home's otherwise breathtaking curb appeal. Unfortunately, like a train wreck, it is hard to take your eyes off a dilapidated fence. And then there is home value, which is affected greatly by curb appeal. It takes a potential homebuyer just 30 seconds to form a first impression and 10% of homebuyers lack the creativity to see the potential in a home, meaning curb appeal matters.
Did you know that the resale value of your home can increase by 15-20% with a new fence and improved curb appeal? So what are you waiting for? Tear down that old, ugly fence and invest in a new, aesthetically appealing fence from Hercules Fence.
Removing an Old Fence: Out with the Old and in with the New
Put on your gloves, break out the crowbar, and get ready. It's time for some demolition.
If you have recently moved in, first check to make sure the fence is yours. The last thing you want to do is remove your neighbor's fence. Talk about getting off on the wrong foot. So talk to your neighbors and get to the bottom of the situation.
Contact Miss Utility before you start digging. Your fence posts are several feet deep and could be located around power lines, cable lines, or phone lines.
If you are installing a new fence, make sure it is on your property. Remember the old adage, "measure twice; cut once?" Well, the same applies to building fences. It is better to be safe than sorry. The last thing you need is to have to take down a fence you just had installed because it is on your neighbor's property.
Invest in a New Fence from Hercules Fence
Since 1955, Hercules Fence has been providing professional fence installation and services throughout Northern Virginia. Please take a moment to browse our many other residential fencing options. Let Hercules Fence help you find the new fence that best fits your wants, needs, and, most importantly, budget. As the largest fence company based in Northern Virginia, we are able to offer you a premium quality fence without the premium price tag.
If you have any questions about Removing an Old Fence, you can contact Hercules Fence of Newport News, Virginia today by calling (757) 316-3600 or visit FencesNewportNews.com today! You can also follow Hercules Fence on Facebook, Twitter, Google+ and YouTube.