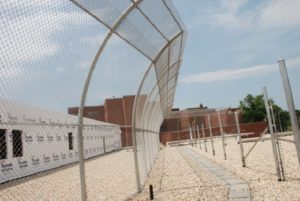 An anti-climb fence is one type of high-security fence. When people consider high-security fences, they frequently picture barbed wire. However, this type of fencing offers a distinctive look. The welded mesh and curved construction of this fence regularly cause climbers to lose their footing. If you are concerned about safety and value aesthetics, an anti-climb fence is unquestionably one of the best types of commercial fencing. Continue reading to find out more about its advantages.

Versatility With Anti-Climb Fencing
Building anti-climb barriers on a variety of industrial sites, such as military bases, manufacturing factories, and biological research facilities, to name a few, is what we do at Hercules Fence. They are sturdy enough for commercial fencing, making them ideal for domestic fencing. These fences are available in a range of heights, sizes, and colors. Steel fencing with decorative patterns is a chic, striking option. Use barbed wire or razor ribbon to increase security. To be safer, you don't have to abandon your sense of style.
Anti-Climb Fencing Offers Durability
Anti-climb fences are hardy and impervious to rust and wear and tear. They have long been aesthetically beautiful and act as a deterrent to trespassers. You won't need to be concerned about this issue if you install an anti-climb fence.
Ensure The Safety Of Your Children and Pets
Both kids and animals stray all the time. Knowing that they are safe and that a fence with an anti-climb feature will prevent anyone from harming them makes you feel more secure. This kind of fencing will safeguard your pets and keep dangerous pests out of your house. You can rest easy at night knowing that trespassers won't be able to take advantage of you or your loved ones.
Make Your Property More Secure
Owning a successful business shows that you have put your all into it. You stand to lose a lot, therefore safeguarding your personnel and resources is crucial. If your company routinely conducts events with large people, an anti-climb fence will discourage unauthorized visitors from trying to sneak in or hurt others. If an anti-climb option is not the ideal option for your business, Hercules Fence also installs temporary commercial fences.
Find Your Perfect Fence With Help from Hercules Fence Newport News
Hercules Fence has experience with nearly every type of residential and commercial fencing material imaginable, from wood and aluminum to chain link, vinyl, steel, and even temporary fencing. We have developed a reputation for quality work and fair, competitive prices. Hercules Fence is ready to serve you from six convenient locations. We have offices in Manassas, Richmond, Newport News, Norfolk, Virginia, Maryland, and North Carolina.
If you have any questions about finding your dream fence or maintenance, contact Hercules Fence today by calling (757) 316-3600 or visiting FencesNewportNews.com for a free quote!