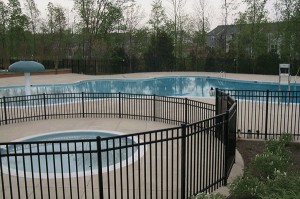 Spring is well underway. And you know what that means; summer is not far behind. Pool season! Whether it is in-ground or above ground, your pool is your own personal paradise – your own backyard oasis. However, as Uncle Ben said in Spiderman, "With great power comes great responsibility." A pool, however fun it may be, can also be dangerous. So Safety must be addressed. This means installing a high-quality pool fence.
Residential swimming pools in Virginia are subject to Section 421.10.1 BOCA National Building Code.
Click Here to learn more about Virginia pool fence laws.
Pool Fence Installation in Newport News
If you are in the market for a new, quality pool fence, you have come to the right place. Hercules Fence of Newport News, Virginia has been providing professional service and quality pool fence installation since 1955. We can handle all of your fencing needs.
While you are here, please take a moment to browse our many other residential fence options: custom wood fences, ornamental steel fences, ornamental aluminum fences, and vinyl fences.
Pool Fence Installation in Spring
Why spring? It's more like why not spring? Once summer rolls around, you will want nothing more than to lounge around in your pool. Summer is not the time to build a fence. Spring is perfect! The weather is warm enough to work outside, but not quite warm enough to go for a swim.
Spring is the perfect time for pool fence installation.
If you have any questions about finding the right Pool Fence Installation in Newport News, you can contact Hercules Fence today by calling (757) 316-3600 or visit FencesNewportNews.com today! You can also follow Hercules Fence on Facebook, Twitter, Google+ and YouTube.