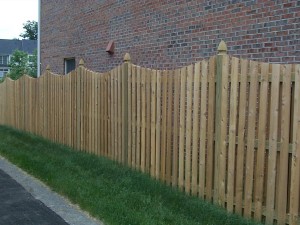 With so many different types of Residential Fences to choose from – including chain link, vinyl, ornamental steel, aluminum, and, of course, wood – it can sometimes be difficult to make a decision. After all, each type of fence has its own unique benefits. So, in order to help you make a more well-informed decision, the fencing experts at Hercules Fence in Newport News, Virginia are going to outline the benefits of each type of fence. This week, we are going to focus on The Benefits of a Privacy Fence.
Privacy: Well, duh! Who would have guessed that a privacy fence provided privacy? Well, it comes as no surprise that the biggest benefit of privacy fencing is the privacy it provides. These tall fences help keep prying eyes out of your personal life.
Curb Appeal: Privacy fences are a great way to add curb appeal to any home. These beautiful wood or vinyl fences simply look magnificent.
Safety: A privacy fence is great for any parent or pet owner. These fences help keep your little ones safe and out of harm's way, while also keeping intruders and wild animals out.
Home Value: A privacy fence even adds value to your home. On top of the other benefits, that is what we like to call a win-win.
Durability: Privacy fences are sturdy and built to last!
Noise & Wind: Do you like entertaining? If so, a privacy fence is perfect for your backyard. These tall fences help reduce wind and noise pollution, allowing you to throw the perfect backyard barbeque.
Wood or Vinyl: Both wood and vinyl privacy fences look great and provide all of the benefits we mentioned above.
And Much More!
Hercules Fence in Newport News, Virginia
With over 50 years in the fence business, Hercules Fence knows a thing or two about privacy fences. Take advantage of this experience and contact Hercules Fence today. We look forward to hearing from you and meeting your fencing needs.
If you have any questions about Residential Fences in Virginia: The Benefits of a Privacy Fence, please contact Hercules Fence in Newport News, Virginia by calling (757) 316-3600 or visit FencesNewportNews.com today! Also, check us out on Facebook, Twitter, Google+ and YouTube!