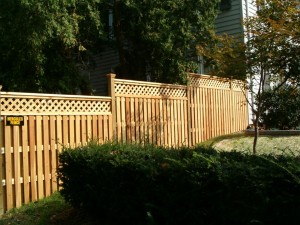 Did you know that is only takes 7 seconds for someone to form a first impression? So curb appeal matters. And because your fence is one of the first things people see when they visit your home, it should be a big priority this spring.
A few weeks back we outlined the best methods for cleaning low maintenance vinyl fences. However, not all of us have vinyl fences. What about those homeowners with wood fences? Don't worry, we have not forgotten about you. This week we will focus on Cleaning Tips for your aesthetically pleasing Wood Fence. And that is why you chose wood over vinyl, right: the curb appeal? However, without annual cleaning you aesthetically appealing wood fence may begin to lose some of its luster.
Wood Fence Cleaning Tips from Hercules Fence in Newport News, Virginia
Remove any leaves, sticks, or other debris that has accumulated around the base of your wood fence. This will help protect your fence from rot. Also be sure to keep vines and bushes away from your fence, as these can easily damage your wood fence.
Then inspect your fence for damage. If you notice any, fix it immediately.
Use a broom to remove any loose dirt or cobwebs that may have clung to the fence.
Next, grab that power washer and get to washing, but remember to set the machine on a lighter setting. And never use a hot-water pressure washer. Otherwise, you risk damaging the wood. Because of this, wood fences should be washed using a pressure between 500 and 800 PSI.
Allow the fence to dry.
Once your fence has dried, it is a good idea to apply a stain to keep your fence looking its best.
One last piece of advice: make sure sprinklers are not constantly spraying your fence. This could cause water to pool up at the base of the fence and rot the wood.
If you have any questions about our blog, "Wood Fence Cleaning Tips from Hercules Fence in Newport News, Virginia," please contact Hercules Fence in Newport News, Virginia by calling (757) 316-3600 or visit FencesNewportNews.com today! Also, check us out on Facebook, Twitter, Google+ and YouTube!