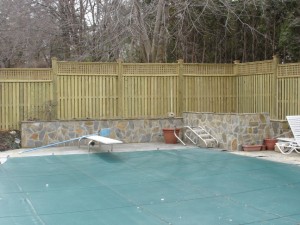 Have you had a pool installed recently or are you thinking about installing a pool? If so, have you even thought about a pool fence? First of all, it's the law.
Residential swimming pools in Northern Virginia are subject to Section 421.10.1 BOCA National Building Code. All in-ground, above ground or on ground pools, hot tubs or spas require a pool fence or other barrier measuring at least 48 inches in height, with a 2 inch maximum vertical clearance between ground level and the fence and spacing between vertical planks should not exceed 1-3/4 inches in width. Plus, all gates need to be self-latching and open outward.
Secondly, a pool fence can be the difference between life and death. Drowning is one of the leading causes of death in children under the age of five. And according to the Consumer Product Safety Commission (CPSC), supervision alone can and does fail. You need a pool fence.
So do yourself a favor and give Hercules Fence of Newport News, Virginia a call today. We can handle all of your fencing needs, including pool fences. We have been providing professional service and quality installation for both commercial and residential fences throughout Maryland and Northern Virginia since 1955.
Additional Benefits of Pool Fences
Some insurance companies offer discounts for homeowners with pool fences.
Pool cleaning is time consuming. A pool fence can help keep debris out of your pool, making cleaning much easier.
A pool fence can help keep your nosey neighbors at bay, adding privacy to your yard.
And so much more!
If you have any questions about our blog, "Residential Pool Fence Law in Northern Virginia," please contact Hercules Fence in Newport News, Virginia by calling (757) 316-3600 or visit FencesNewportNews.com today! You can also follow Hercules Fence on Facebook, Twitter, Google+ and YouTube while you are at it!