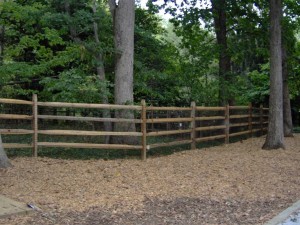 In our previous blog, "Benefits of a New Fence in Northern Virginia: Make a Home Easier to Sell," we provided several statistics to support the benefits of curb appeal and fences, especially when trying to sell your home. Of course, a new fence is also beneficial if you do not plan to sell your home anytime soon. The right fence can really make your home stand out from the crowd. An old dilapidated fence can do the same thing…in a bad way.
Tearing Down an Old Fence
Before you grab your hammer and crowbar, there are a few things you should know about tearing down an old fence.
Is the Fence Yours? Yes, this seems like a silly question, but it is a necessary one, especially if you have just moved in. Just because a fence looks like it is yours doesn't mean it is. Check with your neighbors just to make sure.
Contact Local Utility Companies: Before you start digging, contact your local utility companies to help determine the location of any lines.
Safety: Make sure you have the proper safety equipment. Wear gloves and protective eyewear. It is also best to wear long pants and shoes or boots. Never work in sandals or worse, bare feet.
Check with Your Neighbors: Even if the fence is yours, it is polite to inform your neighbors of the project, especially if it will disturb their property.
Once the old fence is down, you may find yourself with a bit of a hole in your life. Something is missing, but what? Well, the obvious answer is a new fence!
Building a New Fence
With over 50 years in the fence business, Hercules Fence knows a thing or two about privacy fences. Take advantage of this experience and contact Hercules Fence today. We look forward to hearing from you and meeting your fencing needs.
If you have any questions about our blog, "Tearing Down an Old Fence; Building a New Fence," please contact Hercules Fence in Newport News, Virginia by calling (757) 316-3600 or visit FencesNewportNews.com today! You can also follow Hercules Fence on Facebook, Twitter, Google+ and YouTube while you are at it!