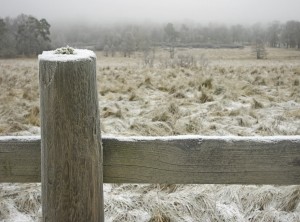 Winter can wreak havoc on your wood fence. This is especially true after a substantial snowstorm. Fortunately, a little routine maintenance can go a long way.
Snow and Winter Fence Damage
Prevent Moisture Build Up: Moisture and your fence are not friends. So you can only imagine the damage snow can do to your wood fence over a prolonged period of time. Snow can expose your fence to mold, mildew, and rot. To prevent this, take the top each spring to properly stain your fence. This, however, is only half the battle. You also need to remove snow and debris from around your fence. Excess moisture can still damage a stained fence.
Falling Limbs: When covered with snow, some limbs become too heavy, breaking and falling to the ground. When these limbs are located above your fence…disaster! Because of this, it is a good idea to trim any overhanging branches before winter.
Shifting Soil: When the frost thaws, the soil beneath your fence can shift, allowing your fence posts to loosen. The entire fence structure can be compromised. This should be easily preventable with proper installation.  When the fence posts are put deep enough into the earth, stability should not be an issue.
Avoid Cheap Fences: Cheap wood can crack and leave knotholes, havens for pests. This is why it is so important to have a quality fence made of quality wood installed.
While the first two tips are up to you, the homeowner, Hercules Fence can help with numbers three and four. Since 1955, Hercules Fence of Northern Virginia has been providing professional service and quality installation for residential fences. We know a thing or two about fences. In addition to offering you unparalleled experience, Hercules Fence also offers the buying power of the largest fence company based in Virginia.
Please take a moment to browse our many residential fencing options, from Custom Wood Fences to Ornamental Steel Fences to Ornamental Aluminum Fences to PVC Vinyl Fences, Chain Link, and more. Our residential fences are not only extremely durable, but also aesthetically appealing.
If you have any questions about Snow and Winter Fence Damage, please contact Hercules Fence by calling (757) 316-3600 or visit FencesNewportNews.com today! You can also follow Hercules Fence on Facebook, Twitter, Google+ and YouTube while you are at it.