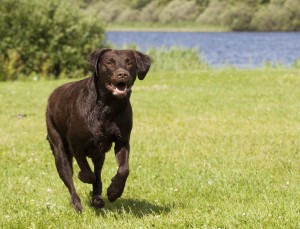 Do you have an adventurous dog that just doesn't seem to want to stay in your yard? If so, you are not alone. Countless dog owners come to us every year and ask, "How do I stop my Dog from jumping the Fence?" Well, you have three options, as we explained in one of our previous posts, "How to stop a Dog from jumping the Fence."
Find out why your dog is jumping the fence. Watch his/her behavior and see what causes them to jump the fence. Is your dog chasing a car or another dog? Is he/she just bored? What is causing your dog to leave the yard?
You could always invest in a dog run. Instead of allowing your dog to run free in the backyard, consider an enclosed dog run for your dog within your yard. This allows your dog to get the exercise he/she needs without the risk of jumping the fence.
Finally, you can invest in a larger fence.
In our blog "What is the Best Fence for Dogs?" we outlined several benefits of wood privacy fences for your dog. According to The Whole Dog Journal, an online periodical dedicated to man's best friend, a six-foot wood privacy fence is the best possible option to keep your dog safely confined to your yard. However, a wood privacy fence is just one option. Another is Vinyl Fencing.
A new vinyl privacy fence from Hercules Fences in Northern Virginia is the perfect solution for the homeowner who wants to keep their dog in their yard, but doesn't want to deal with the maintenance of a wood fence. Vinyl fences are incredibly attractive, incredibly flexible and durable (vinyl is nearly five times stronger than wood), and low maintenance. Unlike wood fences, these fences never need to be painted or stained. There is also no danger of rotting. Perhaps best of all, vinyl fencing is extremely affordable, especially when you take into account the long life and limited maintenance.
Hercules Fence of Northern Virginia
Since 1955, Hercules Fence of Northern Virginia has been providing professional service and quality installation for both commercial and residential fences. We know a thing or two about fences. In addition to offering you unparalleled experience, Hercules Fence also offers the buying power of the largest fence company based in Virginia.
Please take a moment to browse our many residential fencing options, from Custom Wood Fences to Ornamental Steel Fences to Ornamental Aluminum Fences to PVC Vinyl Fences, Chain Link, and more. Our residential fences are not only extremely durable, but also aesthetically appealing.
If you have any questions about our blog, "How do I stop my Dog from jumping the Fence?" please contact Hercules Fence by calling (757) 316-3600 or visit FencesNewportNews.com today! You can also follow Hercules Fence on Facebook, Twitter, Google+ and YouTube while you are at it.