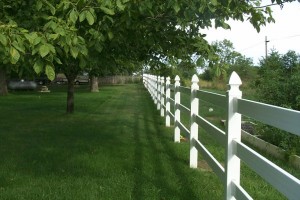 With a variety of materials to choose from, deciding on what type of fence you want can be a difficult decision. Finishes include wood, iron, vinyl, bamboo, and chain link, each with its own set of advantages and disadvantages. While wood picket fences were once the dream of many future homeowners, today's homeowners are leaning more and more toward vinyl fences.
The growth in popularity is largely due to vinyl's versatility and affordability. They are available in different colors and textures, need little maintenance, do not need to be painted, and are termite and rot free. When looking into your fencing options, here are some more benefits to consider about a vinyl fence:
Sustainability: Vinyl fences typically come with multi-year warranties, ensuring a long-lasting fence to meet your needs. When they are no longer useful, they can easily be recycled, making them among the more ecologically friendly options for fences.
Strength and Flexibility: Vinyl is nearly five times as strong as wood, making it much more difficult to bring down. In places that experience extreme weather conditions such as strong winds and rain, vinyl fences are far sturdier than wood. Vinyl fences are especially popular in water front properties, as they can withstand large amounts of exposure to salt water.
Maintenance: All it takes to clean a vinyl fence is some soap and water. Vinyl fences tend to retain their color better than other fencing options, which means your chances of needing to repaint the fence are significantly less than another option.
Economical: Vinyl fences are much cheaper than wood or iron fences, and require less maintenance, meaning you can put that money elsewhere.
Aesthetics: Because vinyl fences come in so many different colors, it is easier to match the fence to the color of your home and surroundings. Doing so enhances your home's curb appeal and can help raise the value of your home.
Because of their low maintenance nature, vinyl fences are the perfect fit for the homeowner who wants the function without the fussiness and time required to take care of some of the other fencing options. Hercules Fence is more than happy to discuss why a vinyl fence might be the right fit for you and your home. Give us a call today at 757-316-3600 or visit FencesNewportNews.com.
Source: http://www.redbeacon.com/hg/5-benefits-vinyl-fence/#ixzz33PtSczIR