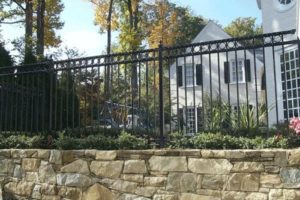 Is your fence in need of repair? Are you interested in installing a fence to protect your property or add a semblance of privacy? If so, as we head into the brutal winter months, it might be ideal to consider the best type of fencing materials that'll outlast the brutal winter in the mid-Atlantic. The winters here can be pretty severe. Ultimately, having a fence that can withstand extreme weather conditions like sleet, snow and ice can allow you to invest in something that will genuinely benefit your home for the long haul. The reality is, using high-quality materials is critical. Here are just some of the best materials to use when it comes to your brand-new fence for your property.
Wrought Iron Fences
If you are looking for beautiful and winter-friendly fencing material, look no further than wrought iron. This type of material is increasingly becoming popular — and it's not just because of how elegant they look. The reality is that wrought iron fences typically can withstand heavy and brutal winters like those we usually deal with in the mid-Atlantic region. Ultimately, wrought iron fences require minimal maintenance while still sturdy and durable throughout the year. As a result, they tend to be an excellent option for people looking for a fencing option that is beautiful to look at while still being able to withstand a cold winter season.
Aluminum Fences
Another excellent option for homeowners looking for a fencing option that'll withstand a brutal winter is aluminum fences. Aluminum fencing tends to be the most affordable and cost-effective option for homeowners. The reality is, aluminum fences genuinely are an excellent option for homeowners looking to ensure their fencing can outlast a crazy winter season ahead.
Bottom Line
The most important thing homeowners care about when getting a new fence installed on their property is how it can handle the most severe weather typical to their area. In fact, in the mid-Atlantic, the winters can be all too brutal — which is why ensuring the fencing material you choose should be able to withstand a difficult winter season.
Get in Touch With Hercules Fence Today
Hercules Fence has experience with nearly every type of residential and commercial fencing material imaginable, from wood and aluminum to chain link, vinyl, steel, and even temporary fencing. We have developed a reputation for quality work and fair, competitive prices. Hercules Fence is ready to serve you from six convenient locations. We have offices in Manassas, Richmond, Newport News, Norfolk, Virginia, Maryland, and North Carolina.
If you have any questions about finding your dream fence or fence maintenance, you can contact Hercules Fence today by calling (757) 316-3600 or visit FencesNewportNews.com today for a free quote!