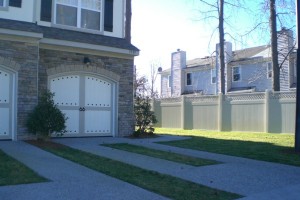 You opted for vinyl fencing over wood fencing for two reasons. First of all, vinyl fencing is aesthetically appealing, giving your home added curb appeal. Secondly, unlike wood, vinyl fencing will not warp, expand, or contract along with the weather. And finally, vinyl fencing requires minimal maintenance. Still, minimal maintenance does not mean no maintenance.
Vinyl Fence Cleaning Tips
Fortunately, vinyl fences are easy to maintain, simply requiring cleaning from time to time. Vinyl fences are so easy to clean that you will be done in no time!
Removing Dirt and Grime: By simply using a garden hose, you can eliminate most of the dirt buildup on your vinyl fence. If this doesn't get everything, it may be time to break out the old power washer and really get to work. However, it will probably not come to this. Vinyl is typically very easy to clean.
Erasing Scuff Marks: Occasionally, you may notice scuff marks on your fence. If you do, don't panic; grab a wedge-shaped pencil eraser and rub the scuff marks away.
Getting Rid of Paint Marks: Oh no! Pain dripped onto your vinyl fence when you were painting. Go grab a plastic scraper and gently try to scrape the paint away. If this does not work, apply a thin coat of paint thinner.
Rust and Hard Water Stains: If you notice rust or hard water stains, simply spray the stains with white vinegar. Then wipe the area clean with a cloth.
Mold and Mildew: Mix water, biodegradable soap, white vinegar, and tea tree oil to naturally kill mold and mildew.
Hopefully you have found these vinyl fence cleaning tips useful!
Hercules Fence in Newport News, Virginia
Are you in the market for a new vinyl fence?  Or any fence for that matter? If so, you have come to the right place. With over 50 years in the fence business, Hercules Fence knows a thing or two about fencing. Our experienced sales and installation staff can handle any of your fencing needs.
If you have any questions about our blog post, "Vinyl Fence Cleaning Tips from Hercules Fence in Newport News, Virginia," please contact Hercules Fence in Newport News, Virginia by calling (757) 316-3600 or visit FencesNewportNews.com today! Also, check us out on Facebook, Twitter, Google+ and YouTube!