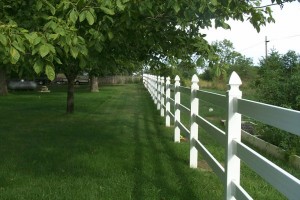 Spring is here. Summer is right around the corner. And this weekend marks the beginning of cookout season. Countless homeowners will take to the grill to prepare a delicious Memorial Day barbeque for their family and friends. But is your yard ready?
Winter takes its toll on a home, its yard, and its fence, especially if it is a wooden fence. You know the drill: repairs, power washing, and staining. It is the same thing each and every fall. Annual fence maintenance is a real pain in the…well, you know. Fortunately, there is an aesthetically pleasing, Low Maintenance alternative to wood fencing: A Vinyl Fence!
Benefits of a Low Maintenance Vinyl Fence
Vinyl fences come in a wide variety of styles and colors.
Vinyl fences can even mimic the look of real wood.
A vinyl fence, unlike a wood fence, will never split, splinter, crack, or rot.
A vinyl fence is resistant to termites, fungus, and even fire.
Cleaning is easy.
Vinyl fences never need to be painted or stained.
As you can clearly see, there are several reasons why vinyl fences have soared in popularity the last several years. These fences offer aesthetic appeal and durability with very minimal maintenance.
Installing a Low Maintenance Vinyl Fence in Newport News, Virginia
If you are interested in installing a low maintenance vinyl fence, contact Hercules Fence in Newport News, Virginia. We can handle all of your vinyl fencing needs. For more than 50 years, we have been providing the people of Virginia with professional service and quality fence installation.
If you have any questions about Installing a Low Maintenance Vinyl in Newport News, Virginia, please contact Hercules Fence in Newport News, Virginia by calling (757) 316-3600 or visit FencesNewportNews.com today! Also, check us out on Facebook, Twitter, Google+ and YouTube!