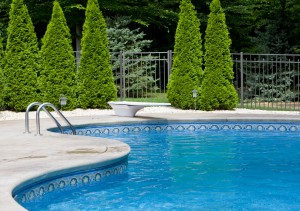 Pools and pool fence installation in Newport News.
Winter has officially come to an end. Finally! Spring is here in Newport News, Virginia and summer will not be too far behind, which is why now is the perfect time to start thinking about that new in-ground pool you have always dreamed about. But why so early?
Well, for starters, you want to enjoy your new pool when summer comes, right? Of course! By starting construction sooner rather than later, you can be assured that your pool will be ready for pool season. Additionally, pool builders and fencing contractors are less busy this time of year, ensuring that your project is started and finished on time.
Pool Fence Laws in Newport News
Not only are pool fences an aesthetically-pleasing way to keep critters out of your pool, they are also the law. Residential swimming pools in Northern Virginia are subjected to Section 421.10.1 BOCA National Building Code:
All pools, hot tubs or spas require a pool fence or other barrier.
The pool fence must be at least 48 inches in height, with a 2 inch maximum vertical clearance from the ground to the fence.
Spacing between vertical planks should not exceed 1-3/4 inches in width. Maximum mesh size for chain link fences is 1-1/4 square inches.
All gates need to open outward and should be equipped with a self-latching mechanism.
All doors with direct access to the pool need to be equipped with a self-latching mechanism and an alarm that sounds no more than 7 seconds after the door is opened and should sound continuously for a minimum of 30 seconds.
The pool should be covered with a power safety cover capable of holding 485 pounds when closed.
Pool Fence Installation in Newport News
Hercules Fence of Newport News, Virginia has been providing professional service and quality pool fence installation since 1955. We can handle all of your fencing needs.
If you have any questions about Pool Fence Installation in Newport News, you can contact Hercules Fence today by calling (757) 316-3600 or visit FencesNewportNews.com today! You can also follow Hercules Fence on Facebook, Twitter, Google+ and YouTube.