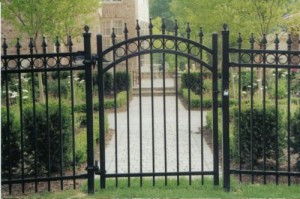 There are so many options on the fencing market: galvanized and vinyl coated chain link, PVC vinyl, wood and ornamental aluminum. How do you know which makes the most sense for your Newport News home? Research!
If you have ever visited our blog before, you know that we like to explore the unique benefits each type of fence has to offer. Just like every homeowner is unique and different, each type of fence is also unique and different. Sometimes it takes a little research to match the right fence with the right person. This week, we are going to try and answer the question: "Is a Steel Fence the Best Option for my Newport News Home?"
As a homeowner, few fences provide the security and aesthetic appeal of a steel fence. Other benefits include:
When most people think steel fencing, they do not think Curb Appeal. The right steel fence, however, adds a certain level of sophistication to a property that wood, vinyl, and aluminum simply cannot compete with.
Steel fences are some of the most Durable fences on the market.
Unlike wood fences, steel fences are very Low Maintenance.
Steel fences also add Home Value.
Steel fences are Rackable and can be adjusted to the slope and grade of your land, providing the perfect fencing solution for uneven properties.
Steel ornamental comes in an Abundance of Styles.
And More!
Interested in a Steel Fence for your Newport News Home?
Hercules Fence is Virginia's largest fence company, allowing us to offer you a premium quality steel fence without the premium price tag. So why would you choose any other fence company? Take advantage of more than fifty-five years of fencing experience and contact Hercules Fence today. We look forward to hearing from you and meeting your fencing needs.
Our steel fence products are coated with an electrostatically applied powder coating to create a durable and long lasting finish that will outperform a painted product. Our manufacturers offer extended warranties from 12-15 years.
Hercules can also provide custom welded panels if you have a unique design in mind. Standard colors are black, white, bronze and dark green.
If you have any questions about Steel Fence Installation in Newport News, you can contact Hercules Fence today by calling (757) 316-3600 or visit FencesNewportNews.com today! You can also follow Hercules Fence on Facebook, Twitter, Google+ and YouTube.