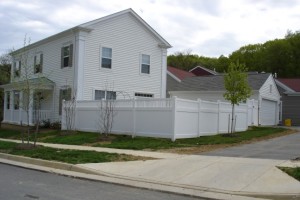 Winter is right around the corner here in Northern Virginia. Before you know it, Jack Frost will be nipping at your nose, leaving you hiding indoors and waiting for spring. This also means you probably won't get much landscaping done between now and April. But before you give up on outdoor home improvement, step back, take a deep breath, and think about this. Fall is the PERFECT time to install that new vinyl fence you have always dreamed about.
The growth in popularity of these fences is largely due to vinyl's versatility and affordability. They are available in different colors and textures, need little maintenance, do not need to be painted, and are termite and rot free. Best of all, they are incredibly durable, which is nice with winter right around the corner.
A Vinyl Fence Can Withstand Northern Virginia Winters
The days have grown shorter and the temperature has noticeable dropped. Brrrrr! Both the Farmer's Almanac and climate experts at the National Oceanic and Atmospheric Administration are predicting a harsh winter. It's going to be a cold one here in Northern Virginia: cold and snowy. So you need a new fence that can stand up to the rigors of those East Coast winter storms, which can be cold, snowy, and windy.
Vinyl is nearly five times as strong as wood, making it much more difficult for high winds to bring down. In places that experience extreme weather conditions, vinyl fences are far sturdier than wood.
Vinyl fences typically come with multi-year warranties.
Vinyl Fence Installation in Northern Virginia
Since 1955, Hercules Fence has been providing professional vinyl fence installation and services throughout Northern Virginia. And as the state's largest fencing company, we are able to offer premium quality fencing products without the premium price tag. That's what we like to call a win-win!
Click Here to request a quote!
If you have any questions about Vinyl Fence Installation, you can contact Hercules Fence of Newport News, Virginia today by calling (757) 316-3600 or visit FencesNewportNews.com today! We are the largest fence company based in Northern Virginia. You can also follow Hercules Fence on Facebook, Twitter, Google+ and YouTube.