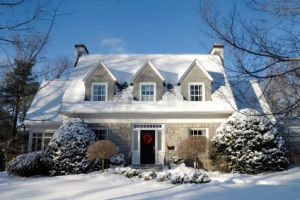 Wood fences are popular for one reason. They look good. Period. End of story. These fences provide an aesthetic appeal unmatched by other fencing. Oh yea, and they are much more affordable than most people think. That probably helps too. However, if you want your wood fence to last, it is important to take several steps to ensure that it is properly cared for.
It is no secret that moisture and wood fences don't get along. They are like the Jedi and the Sith (a nerdy reference, we know) or oil and water. When a wood fence is exposed to moisture on a constant basis, it deteriorates much quicker. This is known as wet rot and is the most common fencing problem you will likely face as a homeowner.
Simply put, you need to do everything in your power to protect your wood fence from moisture: rain, sleet, and snow. The better care you take of your wooden fence throughout fall and winter, the better your chances are of keeping it standing until spring!
Wood Fence Maintenance Tips for Winter
Winter is coming! That much is certain. Heck, there has already been snow in the forecast. Is your wood fence ready? If not, you still have time to prepare, but you will need to act fast.
Inspect Your Fence
Walk up and down your fence looking for signs of rot or other damage. If you find anything, address it immediately. As they say, a stitch in time saves nine. While they may not have been talking about wood fencing, they could have been. A little preventive maintenance can save a lot of work (and money) down the road.
Cleaning and Pressure Washing
One of the easiest, yet most neglected ways to maintain your fence is to clean and power wash it annually. Fences get dirty. And dirt can actually harm your wooden fence if not dealt with in a timely manner. So do yourself (and your fence) a favor and wash your fence from time to time. It will not only look better, but ti will last longer. That is what we like to call a win-win.
Staining Your Fence
Staining your fence is the easiest way to protect it from moisture.
Trim Overhanging Branches
While not directly related to fence maintenance, overhanging branches pose a real threat to your fence, especially during the winter. With the added weight of ice and snow, branches are more likely to snap. And if these branches are hanging over your fence, the damage could be pretty significant, depending on the size of the branch.
With proper maintenance, your fence will be around to protect your family and provide your home with beautiful curb appeal for years to come. Without proper maintenance, you may find yourself investing in a new fence much sooner than you would like.
Wood Fence Installation in Northern Virginia
Since 1955, Hercules Fence has been providing residential  and commercial wood fence installation throughout Northern Virginia. We pride ourselves on our extensive wood fencing options. But, perhaps best of all, as the largest fence company in Virginia, Hercules Fence is able to offer you a premium quality wood fence without the premium price tag. That's what we like to call a win-win!
All of our lumber meets and/or exceeds industry standards, as well as conforms to the latest EPA requirements.
If you have any questions about Wood Fence Installation, you can contact Hercules Fence of Newport News, Virginia today by calling (757) 316-3600 or visit FencesNewportNews.com today! We are the largest fence company based in Northern Virginia. You can also follow Hercules Fence on Facebook, Twitter, Google+ and YouTube.