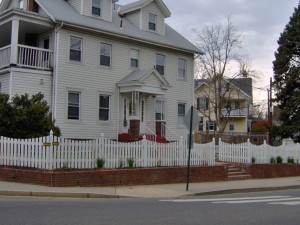 As a homeowner, you are constantly looking for ways to maximize every dollar you spend on your house. You do not want to choose just any home improvement project. You want a home improvement project that adds curb appeal and value to your home. That is why you have chosen a new fence from Hercules Fence in Northern Virginia.
Add Curb Appeal and Home Value with a New Fence
Curb Appeal: First and foremost, a new fence will help set your home apart from the crowd. Our wide variety of residential fences are not only extremely durable, but also aesthetically appealing. Your neighbors will gaze in amazement at your beautiful new fence. Your home will be the envy of the block. And if you are considering selling your home anytime in the near future, remember how important curb appeal is in real estate. A potential homebuyer makes up their minds within the first 30 seconds, making curb appeal crucial.
Home Value: Not only is a new fence from Hercules Fence going to increase your curb appeal, it will also increase your home value. And with the housing market slowly returning to normal, now is the perfect time to give your home a facelift. A new fence is a major selling point for potential homebuyers. It will not only catch peoples' eyes, but it will also help you get a better price for your home. In fact, improving the curb appeal of your home could increase its value by as much as 15-20%.
So what are you waiting for? Contact Hercules Fence of Northern Virginia today and be well on your way to the house you have always wanted. We have been providing professional fence services and installation throughout Northern Virginia since 1955. Hercules Fence can handle all of your residential fencing needs, from Custom Wood Fences to Ornamental Steel Fences to Ornamental Aluminum Fences to PVC Vinyl Fences and more.
If you have any questions about our blog, "Add Curb Appeal and Home Value with a New Fence" you can contact Hercules Fence of Newport News, Virginia today by calling (757) 316-3600 or visit FencesNewportNews.com today! You can also follow Hercules Fence on Facebook, Twitter, Google+ and YouTube.