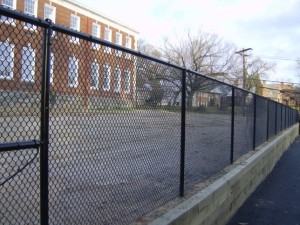 As you may have discovered already, installing a fence can be a big deal: not only can a fence cost thousands of dollars, but the finished product becomes a major aesthetic feature for your home or business for years following the installation.
You have done your research and you know that a Chain Link Fence offers you the security and durability you need without the constant maintenance and high price tag of a wood fence. Now you only have one question…
Where is the Best Place to buy a Chain Link Fence in Northern Virginia?
Let Hercules Fence handle all of your Chain Link Fencing needs.
Hercules Fence has been providing professional fence services and installation throughout Northern Virginia since 1955. We are the largest fence company based in Virginia, allowing us to buy our fencing products at a price that will afford you value to complement our quality.
We are more than happy to answer any questions you might have. With over 50 years in the fence business, we are well aware that our reputation must be earned anew every day.
Our other residential fencing options include Custom Wood Fences, Ornamental Steel Fences, Ornamental Aluminum Fences, and PVC Vinyl Fences.
What other benefits does Hercules Fence offer?
Besides being Virginia's largest fence company, offering you premium quality fencing without the premium price tag, we also offer extended warranties on all of our products. While many companies can install a product that may appear to be well constructed immediately following installation, Hercules Fence can provide a fence that you will be proud of for many years.
So why would you choose any other fence company in Northern Virginia?
If you have any questions about our blog, "Where is the Best Place to buy a Chain Link Fence in Northern Virginia?" you can contact Hercules Fence of Newport News, Virginia today by calling (757) 316-3600 or visit FencesNewportNews.com today! You can also follow Hercules Fence on Facebook, Twitter, Google+ and YouTube.