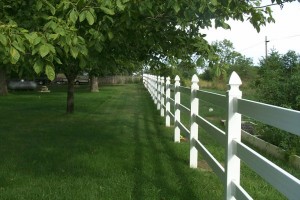 At Hercules Fence, we hear the same questions over and over, perhaps none more than "Should my Fence Posts be set in Concrete?" The simple answer is yes. It doesn't matter if it is a do-it-yourself (DIY) project or a professional installation, wood fence or vinyl fence, your fence posts should be set in concrete. Without a properly set concrete footer, your fence posts will begin to sag until they eventually fail.
Setting a Fence Post in Concrete
For starters, let's make one thing very clear; setting a fence post in concrete is not as simple as digging a hole and throwing in some concrete. You need to take several things into consideration, such as the temperature outside, your location and sighting up your line.
The Equipment: If you are only doing a few posts, you can probably get away with using a post hole digger. This requires a lot of hard work and sweat, but it is cost effective. However, if you are doing an entire fence worth of holes, you will probably want to rent some equipment, such as an auger.
Miss Utility: Before starting any holes, call Miss Utility to come out and mark underground utilities. Otherwise, you run the risk of hitting a pipe, electrical cord, telephone line or other cable. You need to provide them with 48 hours' notice before you dig.
Digging: It is important to dig your holes below the freeze line. This means that each hole should be around 30' deep or deeper.
Gravel: You will want to put several inches of gravel at the bottom of each hole. This will make sure your fence post is not sitting on dirt, which could contribute to wood rot. And the last thing you want to do is dig up your posts in a few years and start all over again.
Posts and Concrete: Finally, set the post, pour the concrete, and level. We cannot stress the importance of leveling enough.
Seem like a lot of work? Well, it is. So why not leave the tough work to the professionals at Hercules Fence? We have been providing professional fence services and installation throughout Northern Virginia since 1955. We can handle all of your residential fencing needs, from Custom Wood Fences to Ornamental Steel Fences to Ornamental Aluminum Fences to PVC Vinyl Fences and more.
If you have any questions about our blog, "Should my Fence Posts be set in Concrete?" you can contact Hercules Fence of Newport News, Virginia today by calling (757) 316-3600 or visit FencesNewportNews.com today! You can also follow Hercules Fence on Facebook, Twitter, Google+ and YouTube.