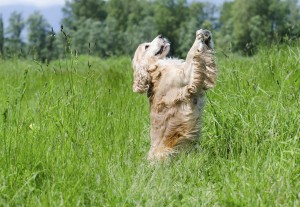 Your dog relies on you to make the best decisions for his or her well being. Not only do you need to protect your dog from other animals and strangers, but you also need to make sure your dog isn't provoked into a situation that could end badly.
While adding any sort of fencing can be expensive, chain link is a smart and cost-effective option for any dog owner's budget.
The Benefits of Chain Link
While you may be contemplating about whether adding a wooden fence is the right route, there are many benefits to installing a chain link fence if you are a dog owner.
When you consider the elements, a wooden fence can easily wear down. By installing a chain link fence, it will last for a long time and is weather resistance. You also want the fence for your dog to be low maintenance, and chain link is a great low-maintenance option.
Most of us do not have a perfectly shaped yard, so a chain link fence is easily customized for your specific needs. You won't have to deal with the limited options of a wooden fence, and your dog will thank you for the perfect chain link setup.
Aside from durability and customization, the installation of a chain link fence is very quick. If you just moved into a new house or just got your dog, you need to quickly have a solution for your dog's needs.
Protecting Your Dog
As a dog owner, you need to make sure that your pet is properly protected.
Dogs are extremely sensitive to loud noises, and for events such as the 4th of July, super strong dogs have been known to break through wooden fences to try and escape the noise. While fireworks are normally used only once a year, this showcases the need for an option like a chain link fence.
You could also have the most friendly dog in the world, but you never know what might happen if a stranger enters his or her territory. An innocent child could poke their hand through your fence, and your dog could become aggressive. With a chain link fence, you will avoid these types of issues.
With over 50 years in the fence business, Hercules Fence offers the quality and expertise that only an experienced business can provide. With six convenient locations in Manassas, Richmond, Newport News, Norfolk, Virginia, Maryland and North Carolina, Hercules Fence is ready to showcase why we've been in business for 50 years.
If you're ready for your new chain link fence for your dog, give us a call at (757) 316-3600, or contact us on our website.