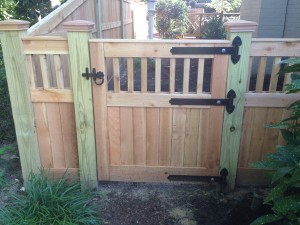 Christmas is right around the corner and you once again can't decide what to get your Husband. He has all the tools he needs. You could buy him clothes, but he is still going to wear the same faded jeans and ratty t-shirts he has been wearing since you first met. So what do you get him? Why not buy him a fence!
Give the Gift of Privacy, Security, and Curb Appeal
A fence is the perfect gift. He will never expect it, but he will love it. He has been saying how much he has always wanted a fence. And why wouldn't he? A fence is great. The benefits include:
Curb Appeal: First and foremost, a fence can really boost the curb appeal of your home. Did you know it takes the average person just 30 seconds to form an opinion about your home? A new fence can help make a positive first impression.
Home Value: Not only is a fence a great addition to your home for aesthetic reasons, it also makes sense financially. A quality fence will help boost your property value and can even make your home easier to sell.
Privacy: Tired of your nosey neighbors watching your every move? A fence can help keep your life just a little more private. Now you can throw those barbeques in peace!
Security: A fence is a great deterrent to burglary.
Safety: A fence helps create boundaries, giving your children, grandchildren, or even your dogs a safe place in which to play.
Property Lines: Fences can help eliminate a lot of confusion, acting as property lines between your neighbors.
Residential Fences in Northern Virginia
Hercules Fence has been providing professional fence services and installation throughout Northern Virginia since 1955 and can handle all of your residential fencing needs, from Custom Wood Privacy Fences to Ornamental Steel Fences to Ornamental Aluminum Fences to Vinyl Privacy Fences and more. Our residential fences are not only extremely durable, but also aesthetically appealing.
If you have any questions about The Benefits of Fences, please contact Hercules Fence by calling (757) 316-3600 or visit FencesNewportNews.com today! You can also follow Hercules Fence on Facebook, Twitter, Google+ and YouTube while you are at it.