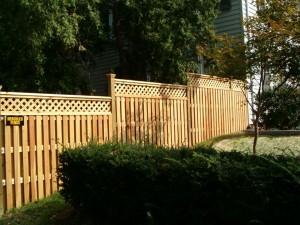 When you think privacy, you think privacy fences. These aesthetically appealing fences are built for just that reason: to keep prying eyes are bay and allowing you and your loved ones to live your life in peace. However, privacy is just one of the many Benefits of Privacy Fences. Others include:
Curb Appeal: Did you know it takes the average homebuyer just 30 seconds to form an opinion about a home? For this reason, curb appeal plays a major role in the way people perceive your home. An unappealing exterior can ruin people's opinions of your home, despite you aesthetically appealing interior.
Durability: Privacy fences, whether wood or vinyl, are built to last.
Child Safety: A privacy fence provides a safe outdoor environment in which your child or children can play. Kids can play without you having to worry about intruders to your property or the kids getting outside of the property.
Dog Safety: While your dog may be able to jump over your current chain link fence, the odds are a privacy fence could keep him/her contained. The higher your fence, the less likely your dog will jump over your fence. Period.
Noise Pollution: Because of their height, privacy fences are also a great way to reduce noise pollution, making your backyard barbeques a little more enjoyable.
And So Much More!
Privacy Fences in Northern Virginia
Hercules Fence has been providing professional fence services and installation throughout Northern Virginia since 1955 and can handle all of your residential fencing needs, from Custom Wood Privacy Fences to Ornamental Steel Fences to Ornamental Aluminum Fences to Vinyl Privacy Fences and more. Our residential fences are not only extremely durable, but also aesthetically appealing.
If you have any questions about Fences, Curb Appeal, and First Impressions, please contact Hercules Fence by calling (757) 316-3600 or visit FencesNewportNews.com today! You can also follow Hercules Fence on Facebook, Twitter, Google+ and YouTube while you are at it.