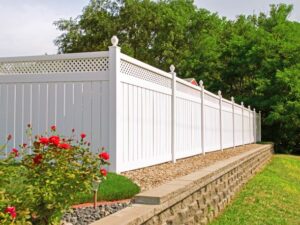 A fence adds a layer of security and privacy to your property, giving you peace of mind. It also enhances your home's curb appeal and can increase its value. If you are still deciding whether to install a fence, this blog post is for you. We have compiled a list of five reasons why every homeowner should consider installing a fence.
Additional Security
Installing a fence can help increase security by creating a barrier that makes it difficult for intruders to gain unauthorized access. A carefully selected fence can also deter burglars, discouraging them from attempting to break into your home. Moreover, having a fence can keep your children and pets safe by confining them within the property and shielding them from potential dangers outdoors.
More Privacy
A fence adds an extra layer of privacy to your home. If you live in a busy street, a fence will keep prying eyes away from your home. Privacy is essential, especially to live a comfortable, peaceful life. With a fence, you can perform outdoor activities such as swimming or lounging without worrying about being seen.
Establish Boundaries
With a fence, you can quickly identify your property boundaries. It eliminates any disputes with your neighbors concerning the location of your property line. You can be sure you are not infringing on your neighbor's property while keeping your own.
Enhance Curb Appeal
A fence can dramatically improve the curb appeal of your property. You can choose from different fences that complement your home's design and style. A fence can also add to the value of your home, making it a worthwhile investment in the long run.
Find Your Perfect Fence With Help from Hercules Fence Newport News
Hercules Fence has experience with nearly every type of residential and commercial fencing material imaginable, from wood and aluminum to chain link, vinyl, steel, and even temporary fencing. We have developed a reputation for quality work and fair, competitive prices. Hercules Fence is ready to serve you from six convenient locations. We have offices in Manassas, Richmond, Newport News, Norfolk, Virginia, Maryland, and North Carolina.
If you have any questions about finding your dream fence or maintenance, contact Hercules Fence today by calling (757) 316-3600 or visiting FencesNewportNews.com for a free quote!